Discovering entrepreneurial traits in a more inclusive way
8 Mar 2019
We're on a mission to improve inclusivity at SSE. In this blog, learning manager Nils Bucknell reflects on the changes we've made to our London Fellowship Programme, as we celebrate the graduation of social entrepreneurs completing the 2018 programme.
Imagine you're applying to something you really want. You get interviewed by one person. They don't look like you, they don't speak like you, and you're pretty sure they come from a very different background to you. How would that make you feel? If you weren't successful, wouldn't you always wonder if it was because that one person wasn't able to connect with you or understand you?
I joined SSE in 2015, and I realised that this was the situation we were putting people in when they applied to our London Fellowship Programme. All of us here at SSE believe in inclusivity – it's one of our core values. But sometimes it takes a fresh pair of eyes to see where you're falling short of your own beliefs.
We're a charity, so we don't have unlimited time or money to do lots of things all at once. Instead, we've been tackling one piece of the puzzle at a time, testing things and iterating. I'm going to share what we've learnt about making the application process for this programme more inclusive and fair, and what we're still working on.
The problem
Our aim is to support people with entrepreneurial mind-sets, from all backgrounds. But there was a mismatch between our values and what we were actually doing.
If you were interested in the programme, you'd come to an info session in our training room in London Bridge – a part of London that's towering with wealth and skyscrapers. We would try to make you feel welcome. But the majority of the session would involve being talked at from the front of the room. After that, you had to do a one-minute pitch and be interviewed one-on-one. Most of the interviewers were white and middle-class.
Let's face it – pitching to a stranger is a nerve-wracking experience. It's a process that typically favours people who are used to acing job interviews, or who have practised that skill at university. It's awful if you feel anxious about one-on-one pitches and interviews, especially if you are worrying that the interviewer might not get where you're coming from. We realised we needed to make some changes.
First steps
Engaging our SSE fellows was the first step in our journey. (We used human-centred design to gather lots of feedback throughout this whole process.) In 2015 and 2016, that simply meant getting more SSE fellows involved in the interviewing process. As we went on, they became a vital part in helping us shape the changes we've made.
A shift in assessment structure
Changing our assessment criteria was a quick win, so we did that in 2016. Instead of simply looking at someone's project idea, purpose and how they'd find the programme, we started looking for entrepreneurial mind-set or the ability to develop one. That meant creating a framework so we could understand whether people were action-orientated, practical, resourceful, flexible, collaborative, open to learning and problem-solving. Our learning team drew on the brilliant work of our then-chair Charlotte Young. They researched and talked to students to identify these traits – those we consider to be core for social entrepreneurs and for getting the most from SSE learning.
Dropping the pitch
In 2017, we dropped the one-minute pitch and replaced it with a group activity. After observing people in these activities, interviewers were then free to ask questions.
Group activities lead the way
Recruitment in 2018 and 2019 was a much bigger jump. Now, we have no application form or scary pitches – just some fun activities and an informal chat with one of the assessment team. Group activities are a valuable way to engage people, to ensure everyone could go away with something useful, and for us to assess people more fairly.
The activities aren't things you need to (or can!) prepare for. They're fun, engaging, and they give you a flavour of what the programme is like.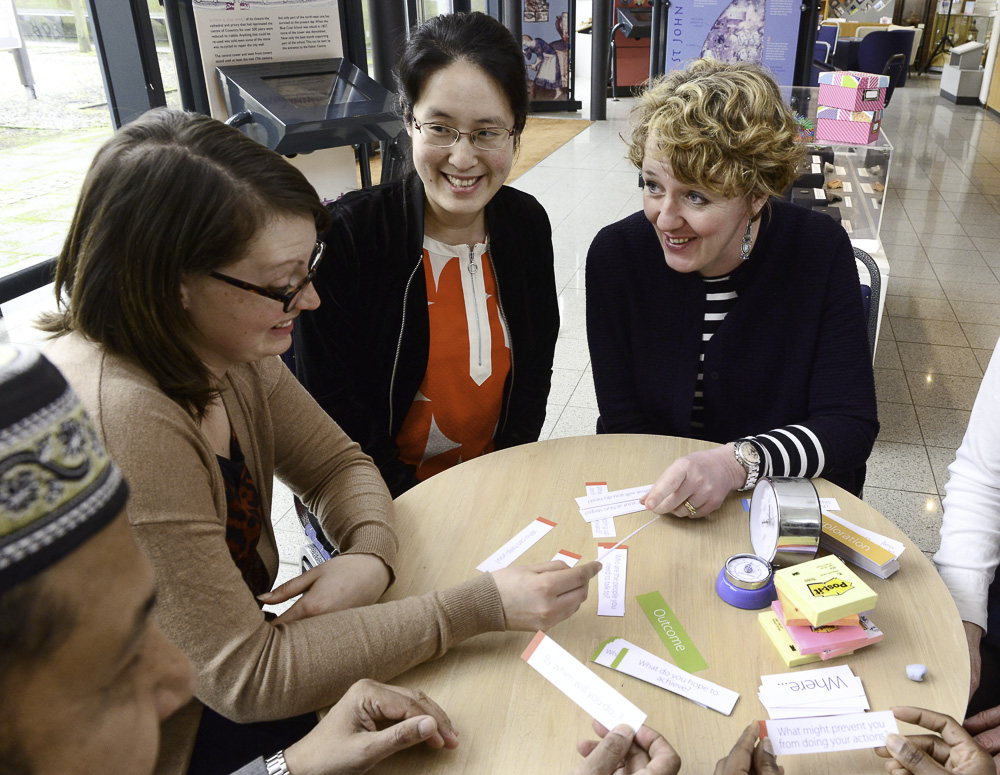 Filtering out bias
It's difficult when you're viewed through the lens of only one person, in any kind of assessment process. Since last year, each person taking part was observed by three assessors from a range of backgrounds. Our assessors were people who'd done the programme before, people on our learning team, or members of staff who have worked with entrepreneurs. That's because they have the closest understanding of the programme, the learning style, and the mind-sets we're looking for. They were less likely to form opinions about people based on personal biases. Even if some unconscious bias did creep in, two other people's assessments would counteract it.
Giving back to people taking part
We wanted to make sure the activities would be valuable, whether or not the programme was right for you. One activity is about networking and developing partnerships with other people there, for example. In one of the groups, the three women taking part loved it so much they stayed in touch!
Another activity centred on business models. We shared some learning and approaches to developing business models, so that everyone who came along would hopefully gain some learning, at the very least.
A lot of work has gone into designing activities to make them as simple, valuable and enjoyable as possible. They're not perfect, but we're getting there! (If you took part in the first round of recruitment this year, we hope you got something useful from it. If you didn't get a place, we warmly welcome you to try again in 2020!)
Skewing London-centrism
We wanted to reach out to more communities. That's why we've been working with partners like The Prince's Trust, Selby Trust, Queen's Park Rangers Football Club and Cambridge House. This means we can host all around London, rather than expecting people to always come to our offices in London Bridge.
What's next?
We've got lots more work to do in reaching more people from a diverse range of communities. That will be our focus for the next round of London Fellowship recruitment in early 2020. We'll be looking at ways to make our learning as engaging and inclusive as possible too.
It's worth pointing out that our endeavours take a lot of time, effort and people-power. We're piloting these approaches throughout one programme at our London school. But we're some way off rolling it out at all our schools, and programmes with grants attached will probably always need an application form.
But we're trying, we're learning, and we'll keep sharing with you as we go.
If you have ideas about how we can reach people from all backgrounds, or other thoughts about how to make our recruitment processes more inclusive, drop me a line: [email protected]
Check out this great list of resources to help you foster a more inclusive recruitment process.