Celebrating the impact of enterprise grants on Scotland's growing social economy
11 Jul 2022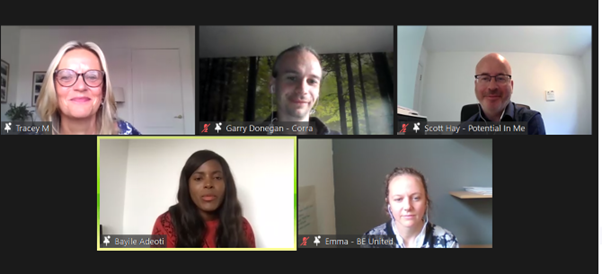 On the 30th of June, leaders from Scotland's social economy came together to discover and celebrate the impact of Match Trading® grants, an innovation in grant funding that pound-for pound matches an increase in income from trading.
Launched in 2017 and created by the School for Social Entrepreneurs (SSE), these enterprise grants work to reduce grant dependency and support the trading ambitions of social enterprises, charities, and community businesses.
The Bank of Scotland Social Entrepreneurs Programme is run in partnership with the School for Social Entrepreneurs and jointly funded by The National Lottery Community Fund and Scottish Government.
Through the 2020-21 programme, 20 social entrepreneurs were supported who in turn achieved:
Average increase of 914 community beneficiariesreached per participant​;
67% workingin the 30% most deprived areas​;
156 volunteers engaged;
20 Bank of Scotland mentors volunteered time and expertise.
The average total turnover of organisations on the programme increased from £62,958 to £103,084.
Tracey Muirhead, Director of SSE Scotland hosted the event and introduced three Scottish SSE fellows. First, we met Emma Picken of BE United. She told us that taking part in the Trade Up and Start Up programmes had been pivotal for her journey:
"I went through the programme during Covid. As the world ground to a halt, the Trade Up programme kept us all going, communicating, and really being that beacon of support.
"We looked at our infrastructure, we redesigned our strategy and we recruited new board members. When the pandemic was over, we came back strong and were able to support our creatives and artists more effectively. Since Trade Up we have established our trading company, and we were very pleased to secure our first contract to cast supporting artists for Amazon Studios production. We cast over 500 people generating £180,000 of income into Scotland's Black community.
"One of the things I believe about SSE is that the value of the programme isn't always instant – it's also in the legacy, with that support."
Next up, Bayile Adeoti of Dechomai talked about her experience of the Start Up programme.
"I saw so many opportunities in the room as soon as I walked in. The speakers were invaluable, they brought so much wealth and depth and knowledge, but I was surprised there weren't any programmes specifically addressing the barriers that black and ethnic minority entrepreneurs have to overcome."
Bayile is now facilitating a Black Social Entrepreneurs programme in Scotland with the support of the National Lottery in August.
Then we heard from Scott Hay, of Potential in Me:
"SSE changed everything. I spotted the Start Up programme and couldn't believe the breadth of topics. The cohort was wonderful, I'm still friends with many of that cohort to this day. Trade Up was a logical progression, I was fortunate to get onto the 2018 programme.
"In the first quarter we exceeded our trading revenue of the whole previous year, and part of that was through the introductions from that programme. And we went on to triple our trading that year.
"The Match Trading element was hugely beneficial, it allowed us to do things we never would have been able to do, moving into our first office, getting a new website, office equipment, workshop resources. I also became an ALS facilitator for SSE, so I was a participant in one group and a facilitator in another."
Paul Forrest, Funding Officer at The National Lottery Community Fund said:
"We've been supporting Match Trading in Scotland since 2018. It's been great to learn about SSE, Match Trading and social enterprises. The real enjoyment has been when SSE has made us part of their journey, invited us to events and recruitment panels, so we've been able to get to know some of the leaders and hear about their achievements.
"It's been great to see what a supportive environment the learning programme has been. It hasn't always been easy, so it's a credit to the participants for their resilience during these times. We are delighted to fund another year of the programme in 2022 and 2023 and we are looking forward to continuing our partnership with SSE."
David Roswell, Head of Community Engagement at Lloyds Banking Group said:
"We are delighted to be celebrating Match Trading and the Trade Up programme in Scotland with SSE. The Bank of Scotland has been involved with SSE for ten years now, and in that time we have been so impressed by the excellence of the social entrepreneurs and enterprises they have supported. The Match Trading programme is innovative in its approach and yields some excellent social entrepreneurs and enterprises. It was great to hear from some of them today and we look forward to seeing their journeys continue into the future."
Next, we heard from Shona Robison, MSP for Dundee City East and Cabinet Secretary for Social Justice, Housing and Local Government:
"Innovative programmes such as the Match Trading programme offer more than just financial support – albeit that's important – it offers incentives in sustainability and peer support, and it's because of this innovative approach that the Scottish government was delighted to join as programme partners.
"One look at the current Trade Up course participants and we can see that our social entrepreneurs are engaged in a truly diverse range of activities and demonstrating a vast array of skills and expertise, from sports to the arts, from mental health to healthy eating, from repair and recycling to re-employment, the social enterprise sector is there supporting our communities. Social enterprises play a vital role in community wealth building by embedding place, people and community wellbeing in their approach and stimulating local economies.
"As a government we remain committed to the ambition of Scotland as a sustainable wellbeing economy by ensuring that local people and businesses have a genuine stake in producing, owning and enjoying the wealth that they create, and we see the social enterprise sector as a key driver in that ambition.
"In the past 10 years almost 200 social enterprises have been supported to develop, launch and grow, and that is almost 200 social entrepreneurs directly supporting, improving and bringing hope to people and communities right across Scotland."
SSE Fellow Ayrshire Film Co CIC produced a short film which you can watch here.
And for a recording of the online celebration event, click here.
We are now accepting applications for the Scotland Social Entrepreneurs Trade Up programme 2022. Apply here by 1pm on 28 October 2022.
We are extremely grateful to our partners, The National Lottery Community Fund and Scottish Government for helping to make this programme possible again this year.