Building a stronger, more robust heritage sector
19 Oct 2022
Reflections on the first year of an innovative programme for heritage leaders
Rewarding, Perspective, Innovative, Evolution, Inspirational 
These were the responses from leaders of heritage organisations when asked to describe in one word, their experience of the Heritage Trade Up Programme. This was a new programme funded by the National Lottery Heritage Fund, with the aim of promoting a stronger heritage sector that supports a connected, inclusive society. 
Thanks to the pandemic, rail strikes and broad UK geographic spread, bringing all 40 participants from the programme together in person, along with Steering Group members and SSE facilitators was a serious challenge over the twelve months!  
The learning – like all our programmes in this post-pandemic era – was designed to be delivered in a blended format. We provided a group online setting with the opportunity to bring all participants together to connect in a way that is only possible face to face and fuels stronger online conversations, learning and connections. 
Hence the reason the residential, held in Birmingham at The Old Library last month, is such a key element of the programme. Spread across three days, the residential was an opportunity to reflect and build on many of the themes addressed throughout the programme. 
What are heritage organisations? And what does heritage mean to you?
Our lens on heritage is purposefully diverse. It includes organisations that represent cultural heritages, localities and communities, the natural world, and the built environment. It is comprised of the narratives, traditions, conflicts, objects, spaces and places that are inherited from past generations, maintained in the present, and handed down to future generations. 
As Jonathan Sawyer from Wells Cathedral, and a Year 1 programme participant said, "Heritage is the stories that connect our past, that provide the lessons for our future".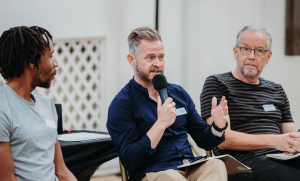 Stephen McGarry from Work West Enterprise Agency, a Steering Group member added, "Heritage is not about buildings, it's not about land. It's about stories, narrative, identity". 
Why does heritage matter?  
Maintaining and enhancing our heritage provides a basis for local economic development and innovation in tourism, agriculture, entertainment, education and business. Crucially, it also creates a shared sense of community and space. 
How do we support a more robust heritage sector?  
Connecting a diverse group of heritage leaders, from a broad range of heritage organisations, is a crucial element of the programme.  
Alison Ullathorn from City of Nottingham Historic Buildings Trust and a Year 1 programme participant echoes this point, "One of the key things is the connection you make with the rest of the cohort. It's just amazing having time and space to be able to connect and learn and grow from each other". 
The leaders we bring together have a tailored group learning programme, as well as smaller coaching sets. 
Marie Kirbyshaw, a Year 1 programme participant from The Culture Trust commented, "Resilience. This programme has shown us how to address it, how to embrace it and recognise that change is not always a bad thing". 
For more insight into our innovative Heritage Trade Up programme, watch this short video produced by SSE fellow Oladamola Babalola from Freshrb C.I.C, featuring the heritage leaders and steering group members who participated in the Year 1 programme.
We are delighted to have continued our partnership with the National Lottery Heritage Fund and are now recruiting for our second cohort for this programme, building on the success of last year.
Apply here for Heritage Trade Up programme and grant by 11th November 2022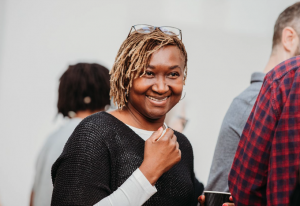 "It's an opportunity not be missed" 
Year 1 programme participant.
Written by Helen Mincher