Access launches new Enterprise Development Programme with SSE & others
5 Sep 2018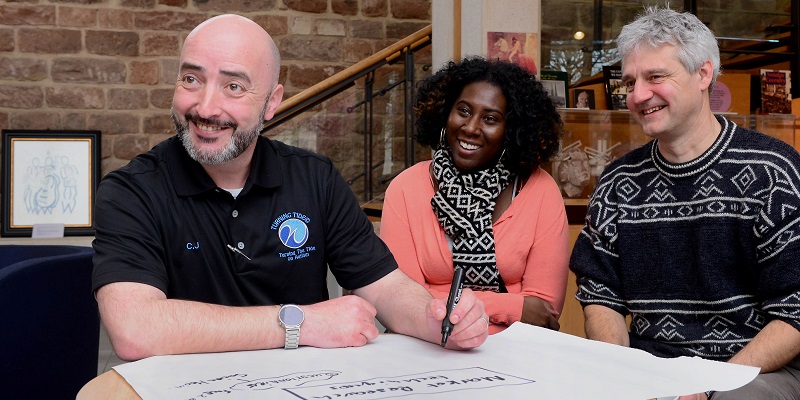 Access – the Foundation for Social Investment – has launched a major new five year, £40m, programme to support charities and social enterprises develop or grow their enterprising activity has launched. The programme will commence with a year-long pilot grant and learning programmes for the Youth and Homelessness sectors. The learning programme, Enterprise Learning, will be run by the School for Social Entrepreneurs.
The pilots of Access's new Enterprise Development Programme have launched for charities and social enterprises working in the Youth and Homelessness sectors.
The Enterprise Development Programme is a five-year £40m programme funded by Access. The programme will provide a broad range of support for charities and social enterprises in England, helping them make a transition to new enterprise models, or grow existing ones. There will be a particular focus on the enterprise models which are best enabled by access to finance, and on enabling organisations to utilise the tool of social investment as part of that transition.
To begin with, two one-year pilot programmes will begin in September – a grant programme, Enterprise Grants; and a learning programme, Enterprise Learning. These will be delivered by a coalition of partners and are available to charities and social enterprises which work in the Homelessness and Youth sectors. Homeless Link, The Centre for Youth Impact and UK Youth will work as sector partners on the pilot programmes. The ambition is for the programme to learn from these initial one-year pilots and expand to other parts of the charity and social enterprise sectors as the work develops.
Seb Elsworth, Chief Executive of Access, said:
"Access was set up with funds from Government to help social investment be a more useful tool for charities and social enterprises. Key to this happening is the development of enterprise models within the sector. This is what this new programme is all about.
"We have chosen to start this work in the Homelessness and Youth sectors because  we have seen that they have significant untapped potential for enterprise development and therefore a latent requirement for social investment. We will build on what we learn from these pilots, as well as our other programmes, such as the Reach Fund, to shape the broader design of this £40m programme for the wider sector.
"We are delighted to be working with a broad partnership of real experts to deliver and help embed this programme.
Enterprise Grants will be administered by Social Investment Business and will award grants of £1.85m over the course of the pilot. Two types of grants will be available as part of this programme: 1) Feasibility grants of £5k-10k for organisations wanting to develop an enterprise proposition in its earliest stage; 2) Larger Development grants of around £50k for organisations developing or scaling up an enterprise proposition and exploring how social investment might be used.
Deborah Smart, Head of Grant Programmes, at Social Investment Business said:
"We're excited to be part of the Enterprise Development Programme. Times are changing and as supporters of charities and social enterprises, we must help organisations adapt and take advantage of new opportunities that would otherwise be unavailable to them."
"We're proud to be managing the grant-side of the programme and look forward to boosting organisations with the capital and confidence they need to become more enterprising."
Information about the programme as a whole as well as Enterprise Grants can be found on the Social Investment Business website at www.sibgroup.org.uk/enterprise-development-programme. Charities and social enterprises will be able to apply to Enterprise Grants from week commencing 24th September.
Enterprise Learning is learning programme for 40 leaders of social enterprises and charities working in the two sectors, who are looking to develop their income from trading. Run by the School for Social Entrepreneurs, participants will receive business support and expert guidance over 8 learning days in London alongside their peers, webinars, and a Match Trading™ grant.
Alastair Wilson, Chief Executive of the School for Social Entrepreneurs said:
"No-one should have to face homelessness in the 21st century, and it's a tragedy that homelessness has increased in the UK in recent times. Meanwhile, far too many young people are being held back due to prejudice in our society and a lack of opportunity in our economy. We are proud to be tackling these issues head on, working in partnership with other leaders in their field through the Enterprise Development Programme.
"Through the Enterprise Learning we are offering as part of this programme, we will strengthen organisations already changing the lives of young people and people affected by homelessness. We do this by equipping the leaders of these organisations with the learning and networks they need to develop more sustainable organisations, and supporting them with Match Trading™grants.
"If you want to learn how to generate more income so you can create greater impact, I warmly encourage you to apply."
A Twitter Q&A, using the tag #ReadyforEnterprise will be held on Tuesday 2nd October 2018 from 12pm-2pm when Social Investment Business, School for Social Entrepreneurs and Access will be on hand to answer any questions.
Check out our page on Enterprise Learning to find out more programme info and to apply. Applications are open now and close on 31st October.