Sky Glover, Happy Go Cooking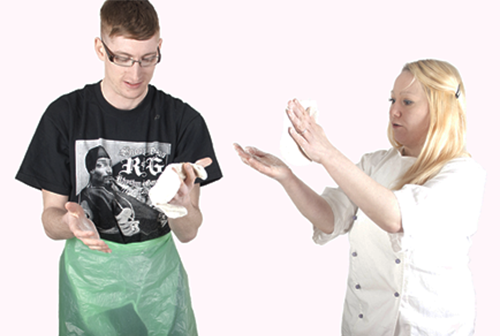 What does your social enterprise do?
Happy Go Cooking provides an exclusive, exciting and educational service getting people into cooking healthy and affordable food at home! We work with schools, colleges, rehab centres, prisons, adult learning centres, youth centres, people with learning difficulties, universities, sure-start centres, unemployed people and youth offenders. We help up to 200 people per week, every week. It has a 100% success rate and is working to bring all communities together through food. In the last 5 years Happy Go Cooking has worked with over 5000 people.
Why are you passionate about this cause?
I was working as a head chef in Liverpool city centre at the time I decided to create Happy Go Cooking. My daughter was 8 and attending a local primary school. One day she came home with letters about healthy eating and pack lunch rules. I found the approach quite patronising and furthermore, it didn't offer any support or training on how to cook healthy meals on a budget.
I had lots of experience with food and realised how difficult it was if you didn't know how to cook. I looked in to idea of setting up a support group for people who didn't feel confident in the kitchen. I found a high need for my classes so I quit my job and ran straight to SSE who helped me create Happy Go Cooking.
What was your biggest challenge in starting your social enterprise?
Book keeping, business plans and confidence. I left school as soon as I could so left with not much confidence with Maths and English. This continues to be a struggle but I always make sure I have good support from staff and accountants.
How has the School for Social Entrepreneurs supported you?
SSE is just fabulous. Happy Go Cooking would not be here if it wasn't for the support and guidance SSE offered and I am still very close with my mentor. I am working closely with another social enterprise who was on my cohort. I am in contact with all my fellow cohort members as when you are going into business on your own it can be a lonely and scary world. .SSE created a family for me to be a part of and the support continues.
What are your plans for the future?
We have big plans going forward. We are hoping to branch out and have staff take Happy Go Cooking to different areas of the UK. Along with this we are looking to open a Happy Go Cooking centre for all age-groups for people to offer creative activities and build happiness and hope for people. We would also hope to open a community café in an area of Liverpool that has been hit quite hard since the recession. I am currently training a group of young people from the local community who will run the café and create a much-needed youth centre for the under-16s.
I am also looking to make a cookbook to help people cook healthily on a budget.
What would your advice be to a budding social entrepreneur?
Only you have the vision that you have….you must act on it! The world needs people like you!