Olive Quinton, Lofty Heights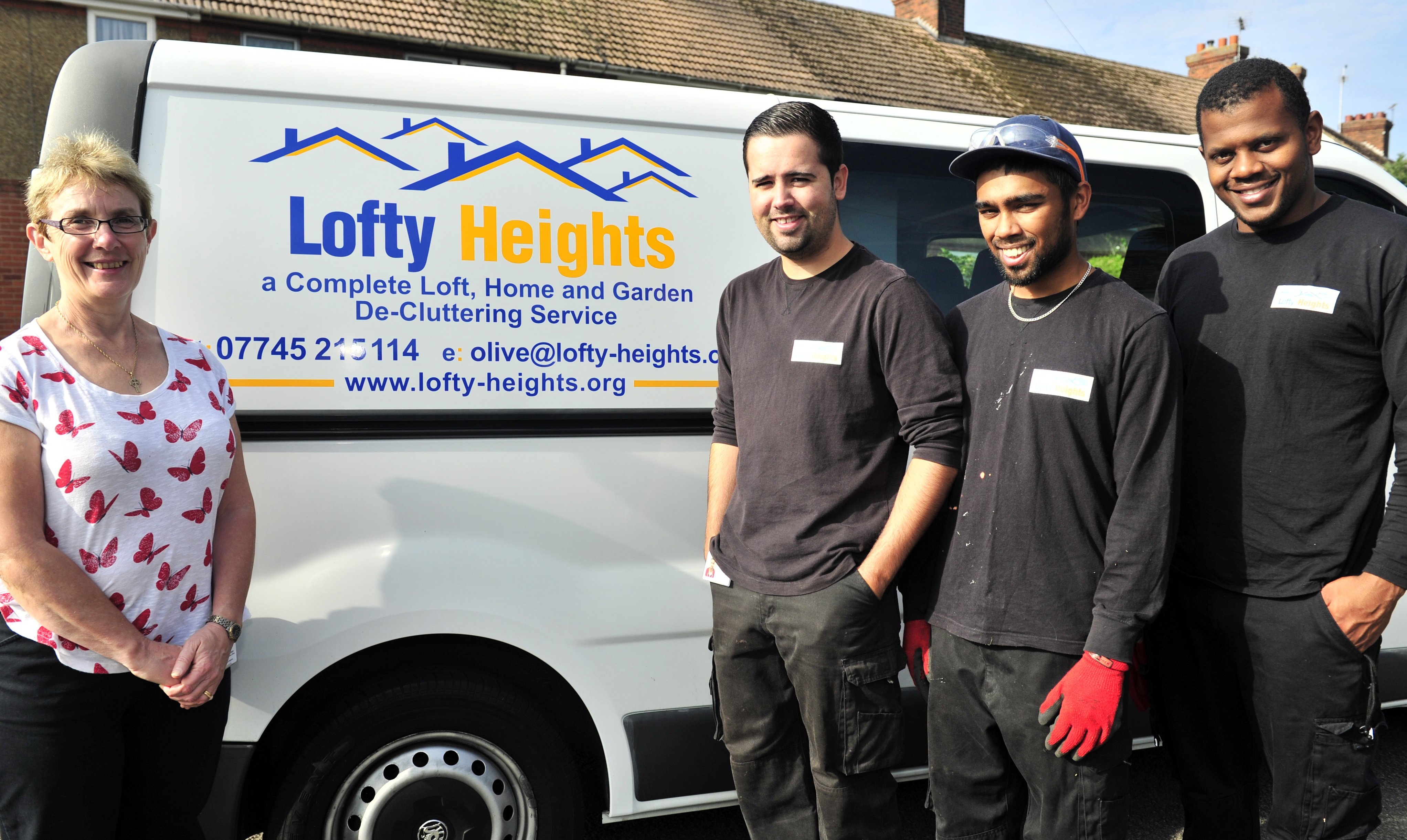 What does your social enterprise do? 
Lofty Heights provide employment and training opportunities for young people disadvantaged through poor education attainment, long-term unemployment or risk of homelessness. Who once trained- and with supervision- provide loft emptying, de-cluttering services for vulnerable people in the community so that they can have warmer, safer, cosier homes.
What is the story behind what you do?
Until March 2012 I worked for the NHS as a Health Improvement Facilitator. Over an 11 year period I worked with many different groups of people, many living in areas of multiple deprivation and health inequality.  Two particular pieces of work I was involved with stand out. These eventually led me to the decision to leave my permanent job in Public Health and to set up Lofty Heights:
The first was a project I was involved with to tackle fuel poverty. Through the project I became aware that a wide range of free insulation measures were available to people on low incomes and those will a long-term illness or disability. However these groups of people were missing out because they were unable to empty their lofts or de-clutter internal and external walls that would enable insulation work.
The second was because of some focus group work I had done with a group of young homeless people.  All of who said that the thing that would make the biggest difference to their lives would be a job.
I felt strongly that it was wrong that there should be people living in cold homes and experiencing fuel poverty when there are young people wanting to work but who may need some help and support to get them work ready.
In March 2012 I left my job so that I could concentrate time and energy on developing Lofty Heights.
What are your key achievements?
Being able to create employment for young people and over 2 years on I still have 3 of the original 4 young people who started still working for Lofty Heights. Seeing their growth in confidence and self esteem, seeing them take ownership for Lofty Heights and having a say in how Lofty Heights moves forward, as they have been involved in every aspect of the business development so far. Including the recruitment of new team members and Development Officer.
How has the School for Social Entrepreneurs programme supported you?
Lofty Heights would not have been possible without the encouragement, practical help, support, introductions and networking opportunities that I received from SSE East.
The whole programme was helpful because I had no previous experience of running a business. I appreciated the work we did around business planning and the business mentors assigned to me who became important critical friends. I found the witness sessions inspiring and motivating as well as providing food for thought. We were lucky enough to have a chance to visit other Social Enterprises from large to small and this was useful to learn from others and ask 'what they might have done differently'.
I also found the Action Learning Sets particularly useful and a small group of us who have established Social Enterprises still meet regularly, as the life of a social entrepreneur can be a lonely one.
Since graduating from the course I have been most grateful to SSE East for allowing me continued regular use of their incubator space. I feel passionate about SSE East and privileged to have had an opportunity to meet so many inspiring people on the School for Social Entrepreneurs Programme.
What would your advice be to a budding social entrepreneur? 
If you feel passionate about something, you can see it in your minds eye, feel it in your heart and hold it in your hand then you must do something about it. You must be prepared to work hard and to be motivated by something other than money. Its hard work, there will be challenges but the rewards are many. Good luck.
If you've been inspired by Olive's story take a look at our courses and see how we can help make your idea a reality.