Martin Campos, Breadwinners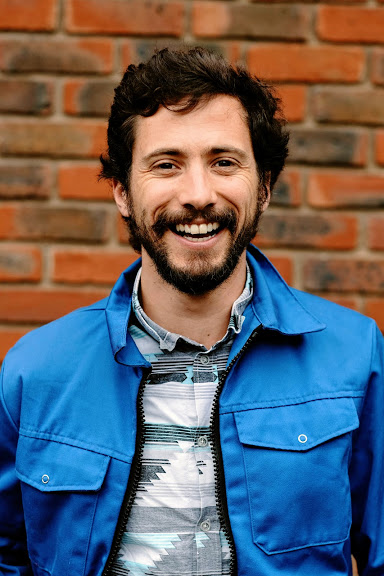 Meet the charismatic Martin Cosarinsky Campos that helps, trains and supports young refugees by selling artisan organic bread. Breadwinners has experienced a massive 215% growth since joining the SSE programme and receiving a Match Trading grant.
In a nutshell:
Founder: Martin Cosarinsky Campos
 Organisation Name: Breadwinners is a Social Enterprise supporting young refugees into work through selling artisan organic bread. Breadwinners deliver three employability programmes in London and Brighton that provide jobs, work experience, training and mentoring at their market stalls and through our wholesale service.
Business model: Trading income via sales of artisan bread and pastries (56%) and grant/donations based (44%)
SSE programme: The Lloyds Bank Social Entrepreneurs 2018 Trade Up and 2020 Scale Up
SSE location: London
All around the world, bread is often meaning of basic sustenance and human rights. This is the premise for Breadwinners, a social enterprise that sells artisan organic bread and supports young refugees in work.
Breadwinners have stalls across London and Brighton staffed by young refugees, often in their first paid job. Breadwinners also involve refugees in the core team and in the wholesale arm of the organisation teaching logistics and customer service. Currently, 56% of their income is based on their sales and the remaining is mostly grants and some donations.
Martin Cosarinsky Campos, the Argentinian–born charismatic director of Breadwinners has a very progressive and well-thought perspective:
"We have three programs where young people start doing work experience at the market. Then when they get the right to work, they come and work on the markets as market stall managers. Then they can progress into operating our wholesale. The programmes allow them to use their skills and gain new ones, have their first work experience in the UK and progress into their careers in their new home country."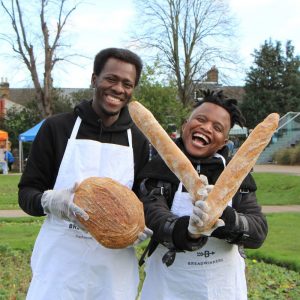 He rightly believes, despite the statistics that 70% of refugees are unemployed*, that young people from a refugee background are highly motivated, ambitious, willing to work and to be integrated into society​. ​Breadwinners provide that opportunity. Martin believes that Breadwinner's three-layered theory of change via training, mentoring and work experience is vital for the workers to go on to other jobs and university.
These are some of the many values that SSE shares with our fellows: inclusion; entrepreneurship; equality; cooperation.
The numbers speak for themselves; having worked with over 273 young refugees through their programmes, over 90% of them said that their well-being has significantly improved after working with Breadwinners. This is Breadwinners' goal and​​they do it by providing them employment.
The different programmes that Martin and Marika (previous director) attended have supported Breadwinners to legally incorporate as a charity, onboard trustees, polish their mission and theory of change, start trading effectively and grow into the 14 Brighton and London markets it is today.
About the Programme and Match Trading
Martin attended the 2018 Lloyds Bank Social Entrepreneurs Trade Up and 2020 Scale Up programmes, as well as the Royal London Changemakers 2021 programme​​, and he also received the Social Enterprise Support Fund grant.
When Covid struck, Breadwinners was forced to stop the markets and venture into e-commerce, and through the support of SSE and grants, they learned how to work remotely.
When doing so Breadwinners taught young refugees how to operate e-commerce technology, deliver good customer service online, and work out the logistics of delivering bread to cafes across London.
Working in a group really helped Martin: "Being together with other social entrepreneurs, seeing that everybody's going through the same challenges, learning from each other​" was vital learning, nurturing Martin's skills to help him overcome challenges and situations, especially during Covid.
Martin also emphasised the difference that SSE has made to him personally​ was developing his innate leadership skills.
In the future, Martin, on whose shoulders all operations and strategic planning sits, wants to start to delegate more, allowing the organisation to grow and be more sustainable. Ultimately, he would like to open a physical bakery in London whilst creating programmes for older people seeking asylum.
Martin's kind words at the end of the interview:
"Thank you to everyone working at SSE and the programme managers. Amazing organization. I hope you keep on going and keep on supporting other entrepreneurs."
Thank you, Martin, for your inspirational work!
Follow Breadwinners on Instagram, Facebook and Twitter.
*Source: Tent.org