Florence Norman, Sweet Cavanagh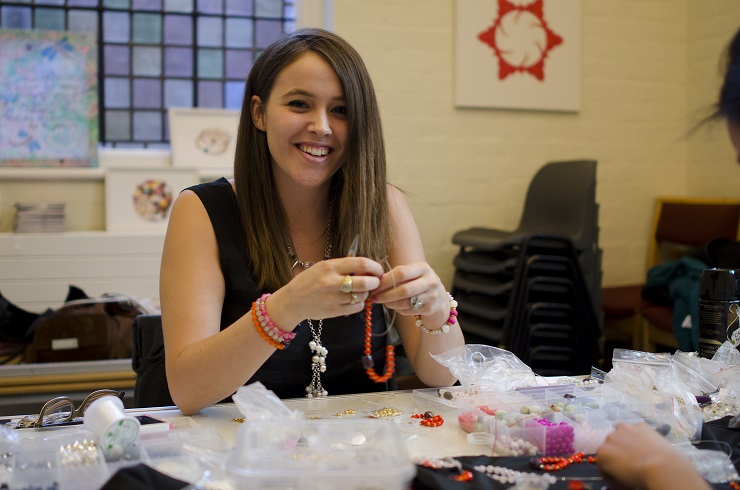 What does your social enterprise do? 
Sweet Cavanagh employs women in recovery and teaches them how to make and design jewellery. Every time someone buys a piece of our jewellery, they are not only supporting the women we work with; they are helping to spread our very valuable message. Women must be valued for more than their looks.
What motivated you to start your social enterprise?
Three and a half years ago I entered into a treatment centre for drug addiction and eating disorder. I spent five months there, and slowly with every day I got stronger. Part of the therapy I received was jewellery making. Something really magical happened in these sessions, I started to feel my self-esteem growing. The whole process is so therapeutic and it gives a wonderful sense of achievement to hold something tangible at the end.
There is next to no after care in London, especially for free and I strongly believe that much of relapse could be avoided if there was adequate after care in place to support people as they entered that very vulnerable stage of recovery.
We've worked with about 20 women in recovery throughout the past year and we're now adding therapist lead support groups every day and additionally offering yoga and cooking therapy. I am also thrilled to say that our consumer base is increasing and we now have two retailers! My greatest achievement has been not giving up, even when we had no money and success looked bleak, we kept going and looking back, I can see what an achievement that was.
How has the School for Social Entrepreneurs supported you?
Being on the Lloyds Bank Start Up Programme has been an amazing opportunity, in fact just being accepted felt like winning the lottery! So many wonderful things have happened this year and thanks to the SSE, I have gone further than I ever thought possible. It's not only been a place of confidence building and skill honing, but furthermore it's been the most incredible platform of resources and support.
I have benefitted from so many aspects of the programme, however the best experience was the Action Learning Sets. Our facilitator, Janie Wilson, created a safe environment for us to develop our analytical skills and build our confidence. The whole group grew with every session and there were a few tears when we said goodbye to Janie! In the beginning I found it challenging because I can be guarded and I don't like to be vulnerable or admit that I'm struggling with anything, but Janie recognized that, and in her expert way she pushed me out of my comfort zone and I felt stronger after every group.
Spending time with my peers was also a great experience. Receiving support and understanding helped me feel less alone, and their encouragement helped me to keep going when I felt disheartened. It's wonderful to feel such camaraderie and it makes the world of difference when things are hard.
If you've been inspired by Florence's story take a look at our courses and see how we can help make your idea a reality.