Duncan Swainsbury, Bounceback Food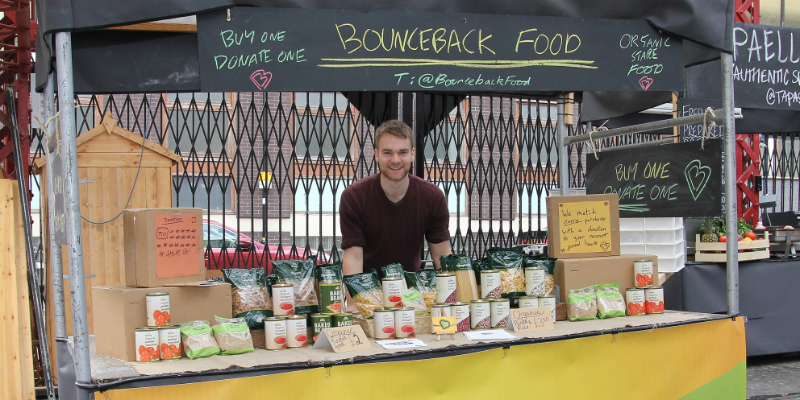 Duncan is a fellow of the Lloyds Bank Social Entrepreneurs Start Up Programme at SSE North West.
What does your social enterprise do?
We sell pasta, rice and tinned food on a 'buy one, donate one' basis. We match every purchase with a like-for-like donation to your nearest FareShare or Trussell Trust food bank. People supported by these charities may have been referred to the food banks for a variety of reasons: they may be sick, unemployed, caught in a debt spiral or, in many cases, simply waiting for benefits payments to be processed. Regardless of circumstance, the food that we contribute forms the basis of nutritious meals that help those in need to Bounceback.
Why are you passionate about this cause?
I have become increasingly alarmed by the rise in number of people in the UK who were having to use food banks to get by following one of the worst recessions our country has ever seen. I was also astonished by the amount of food that goes to waste in our country: approx. 7 million tonnes each year.
Whilst volunteering at FareShare Greater Manchester, lorry loads of food that we received wouldn't necessarily contain items that people needed. The supermarkets and other companies donating the food had the right intentions. But we often found ourselves sorting through food that may not be fit for consumption, damaged or on the verge of going out of date.
I was determined to set up a social enterprise that would help to tackle this imbalance and wider inequality in our society.
What was your biggest challenge in starting your social enterprise?
I was daunted by the initial leap of faith required to take an idea and turn it into a reality. However, getting the support of the SSE gave me the confidence to start this journey and set up my social enterprise.
How has the School for Social Entrepreneurs supported you?
Our achievements so far wouldn't have been possible without the SSE.
The support, business advice and networks I gained from the Start Up programme gave me the confidence to launch and develop the business in the North West.
What is your business model?
Our version of the one-for-one business model recognises the need to donate good quality food across the UK and help people to learn how to cook and save money. That's why we run a mixture of market trading events, cookery and budgeting workshops and sell online. We are keen to ensure that we donate food in the most efficient way and this is something we are prioritising as we aim to scale up.
What are your plans for the future?
We are currently in the process of expanding our online store which will help us to support more food banks across the UK on a regular basis. We want to ensure that every food bank has a regular supply of quality staple food.
What would your advice be to a budding social entrepreneur?
Take your time to do your market research, then define your mission and core values. They're a constant source of motivation and it's important to never forget why you're going into business and what you want to achieve.
Have you been inspired by Duncan's story? Discover our courses and see how we can support you and your social enterprise.