Win a Freelance Survival Kit with Elevator
4 Apr 2016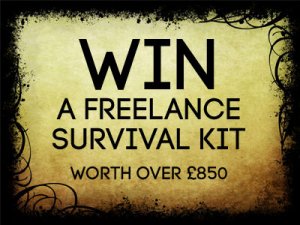 To kick off the new financial year Elevator have launched a new competition to win a Freelance Survival Kit.
It's super simple to enter: all you have to do is join Elevator, sign in and refer someone to the network. As soon as they sign up you'll be entered into the draw to win the Freelance Survival Kit worth over £850 and some runners up prizes! Plus, if the person you refer gets a job with a "bounty", you'll get paid up to £500 too!
The competition runs for the month of April 2016 and you can enter as many times as you like. Your entry won't validate unless the person you refer joins Elevator, so make sure you refer people who are interested in ethical jobs, or fancy making money by referring other people.
You can check if the friends you have referred have joined by clicking "My Account" in the top right corner of the site, and then clicking the "Referrals" tab or, simply follow this link to your successful referrals.
Whoever you refer will be entered into a separate prize draw to win some chocolate 🙂