Top tips for Pride month – a personal and professional view
14 Jun 2022
This is a guest blog from SSE fellow Max Cohen (he/him), counsellor, trainer, and Director of It's All About You Wellbeing CIC  (IAAYW). IAAYW is a newly incorporated Community Interest Company based in South West England. It provides counselling and wellbeing to LGBTQIA+ people and training to professionals working with them.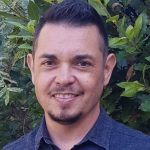 I thought long and hard about how to start this blog and how to capture the essence of the 50 years since the first UK Pride march held in London. (You can come to the longer version of my thoughts in my webinar for Totnes Pride – Proud2Be "50 years of UK Pride and the wellbeing of LGBTQIA+ people".)
My first title was actually "Top tips for getting through Pride month" because as someone leading an organisation working in the LGBTQIA+ space, and as a pansexual trans man, Pride month is a mixed blessing. It's a great time to raise awareness of current issues that need improving, and to celebrate progress. However, for LGBTQIA+ people, it can zap emotional energy and bring the struggles of minority stress to the forefront. At the time of writing, there is another governmental debate on the inclusion of trans+ people in the proposed ban on conversion therapy.
We need understanding and compassion. It's not all about corporate rainbow branding which covers up the discrimination felt by LGBTQIA+ employees – a term called 'rainbow washing'. Well-intentioned organisations ask employees and service users to be the LGBTQIA+ voice and/or face of their company yet may ignore the emotional impact and personal and professional risks this entails.
It's all about the wellbeing – in addition to – the visibility and inclusion of diverse people within LGBTQIA+ communities.
Top tips for (getting through!) Pride month
For organisations
Payment or compensation for LGBTQIA+ people telling their stories
Investment in meaningful and relevant training on LGBTQIA+ issues, with support for those sharing their experiences
Commitment to year-round inclusivity
For fellow LGBTQIA+ people and social entrepreneurs
As one of many people heading up social enterprises who has lived experience of the issue they're working with, self care is essential. For me, this includes compassionate mindfulness, reaching out to extra support from my trusted networks, extra time to plan, debrief and recover from talks, and singing in Spectrum LGBT choir
Opting out and saying 'no' is okay!
Try not to compare yourself to others – everyone is on their own journey, moving at their own pace
Things to be mindful of
While someone may appear confident in their sexual and/or gender diversity they may also experience gender dysphoria or trauma from hate crime or bullying
Not all LGBTQIA+ "come out" – for all kinds of reasons
Informed allies are those who speak out against discrimination
Identities intersect causing further marginalisation. For example, a disabled Black trans woman will have a very different experience to a white neurodivergent gender fluid person. (Class and faith play a part too.)
Discrimination and prejudice happens within Pride events, hence the existence of events for disabled LGBTQIA+ people, UK Black Pride, Trans pride and Traveller Pride.
What else would you add to these lists? Let us know on Twitter @SchSocEnt using #SSESupportsPride