The story of social infrastructure, through the eyes of one community bank (and Netflix)
9 Feb 2023
Against a recent backdrop of political priority to equalise opportunity and outcomes in the UK, the phrase "social infrastructure", has arisen.
In the Levelling Up white paper, the wording is used over fifty times. Power to Change and The British Academy jointly published research on the topic this month, and Local Trust have published extensive relevant research. 
What is "social infrastructure" and why does it matter?
Power to Change acknowledge there is no clear definition, but say "places designed to bring people together – feature strongly throughout our research. They are often well-respected and trusted spaces where the public sector and civil society organisations are able to interact with communities, [as well as] the importance of 'accidental' social infrastructure – those places which may be intended to serve a different purpose, but which for particular communities also provide the types of service associated with more traditional types of social infrastructure". 
Local Trust commissioned research into social infrastructure in 2021, which showed that "individuals living in communities with a strong foundation of social infrastructure – even those facing long-term deprivation – have greater employment opportunities, better health outcomes and higher educational attainment across every age group". 
Previous Local Trust research, more recently published in the New Statesman, also shows that "Places to meet" are the top thing people in 225 "left behind" neighborhoods (which feel they have fewer resources than elsewhere) say they lack".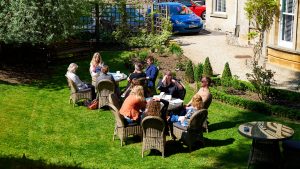 This month, on Netflix, 'Bank of Dave' appeared as number two on the 'most recommended' list. No spoiler alerts, but all the elements of social enterprise and social infrastructure are there – Dave lives and works in Burnley, a deprived community (it is loosely based on a true story) suffering from the aftershocks of the 2008 financial crash. Dave creates a social purpose business, a community bank, from a local need for accessible and patient capital, using the profits to bolster local charities. The outcomes created are well known to us in the sector – Dave's business produces multiple local jobs, raises local aspirations, and creates tight community links. Because the money stays in the local community, he also generates trust, furthering both the sustainability and impact of the enterprise.  
Whatever the reason 'Bank of Dave' was so well watched, it clearly struck a chord, as did the real life 'Bank on Dave' or Burnley Savings and Loans. The idea of acting on a local need and using collective community power to raise aspirations is an easy story to sell and a familiar one.  
At School for Social Entrepreneurs (SSE), with over 25 years' experience in upskilling and supporting social enterprises from launch to scale, we know first-hand that social enterprises have a critical role to play in strengthening the social fabric of places, whilst also driving local economic renewal and boosting jobs.
SEUK's 2021 'State of Social Enterprise' report demonstrated that even post pandemic, social enterprises consistently grew staff turnover, especially in more deprived regions. Social enterprises include community banks, but also community centres, cafes and shops, as well as training facilities and social mobility charities.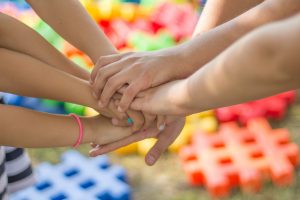 However, regional inequalities have a profound effect on the ability of enterprises to start and grow. In left behind communities, experiencing extreme economic decline, a lack of resources makes it more difficult for enterprises to thrive. We know improving social infrastructure improves economic and health outcomes and throughout the UK are 1000s of budding and passionate social entrepreneurs with the enthusiasm and experience to provide the social capital needed. What is still lacking is widespread appropriate finance mechanisms for the social sector – grant making practices that are a 'hand up' not a handout, that encourage development and growth, not dependency and that provide an equitable relationship between the funder and the organisation.  
At SSE, we believe Match Trading is one clear way of doing this and a scaled Match Trading approach will create numerous regional opportunities for community based social enterprises to sustain and develop their trading and social impact, in turn raising the bar nationally on the strength of our social infrastructure.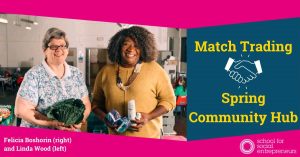 One Match Trading recipient, Felicia Boshorin, CEO of foodbank and community centre Spring Community Hub in Southwark, who received a Match Trading grant in 2019 on SSE's Health & Well-Being programme with Guys & St Thomas' Charity said, "The programme and grant made me a better leader. It made me identify other income sources so that we're sustainable. 
We don't need to worry about the future. It shifted our focus from a reliance on funding to a model bolstered by trading. Trading allows us to plan ahead, and it makes us more sustainable, we can keep our staff and volunteers and continue to have an impact in the community." 
Written by Jo Verney, Strategic Projects Manager SSE