Taking back control – The Social Economy Alliance launches a manifesto for an inclusive economy
5 May 2017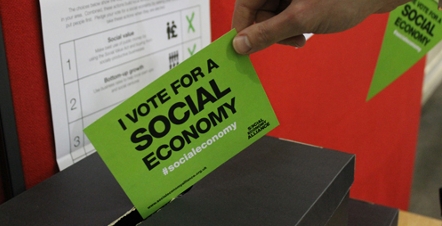 The Social Economy Alliance, representing hundreds of social enterprises, co-operatives, charities, investors, entrepreneurs, trusts and associations has today launched its manifesto for the General Election.
It sets an ambitious, positive vision on how the new Government can harness the energy of businesses, community groups, charities and co-operatives to tackle the inequalities, divisions and lack of trust in the country.
Seizing on the opportunities and challenges of Brexit, the manifesto offers ideas to deliver a more inclusive economy and solutions to empower communities to truly take back control.
Ideas for the next Government include:
Realising the potential of business – with rewarding good business behaviour through tax incentives, tackling tax avoidance, improving tax transparency and socially responsible supply chains.
Making the most of Brexit – Government can completely remake state aid, competition law and procurement law to take into account the environmental and social impact of business.
Harness the buying power of the taxpayer – Government can insist that profits made from outsourcing are reinvested for the benefit of society.
Channelling the passion of communities – over a billion pounds of unclaimed assets can enable local groups to take projects they care about under community control, supporting people to build their own local economies and put power in their hands.
Tackle injustice and fairly reward the efforts of hardworking people – redirect tax breaks away from owners of unproductive assets towards entrepreneurs, workers and people investing in good causes.
Direct the power of government – to deliver an inclusive industrial strategy which ensures the economy works for everyone, inspired by the social economy.
The Alliance has been liaising with the major political parties and sending them these ideas over the past few weeks as they have been drawing up their manifestos.
Peter Holbrook, Chief Executive of Social Enterprise UK, said:
"Social enterprises are thriving, communities are co-operating to take control of local buildings, high streets and services; tens of thousands of people are investing in community energy, and employee ownership is empowering workers. This is an opportunity to reshape the boardrooms of Britain. It's a chance to take back control and in a way that reduces inequalities, heals divisions and strengthens the country for everyone."
Alastair Wilson, CEO, School for Social Entrepreneurs, said:
"Social entrepreneurs have the potential to unlock positive change for communities across the UK. I urge the next government to listen to them so we can build a better economy for all. This is a chance to reinvent capitalism for the 21st century."
You can download the Manifesto for an Inclusive Economy here.