SSE chair, Richard Collier-Keywood, joins Welsh Rugby Union board
16 Jun 2023
SSE are thrilled to announce that Richard Collier-Keywood, SSE chair of board, is one of the first appointments to the new Board of Welsh Rugby Union as chair.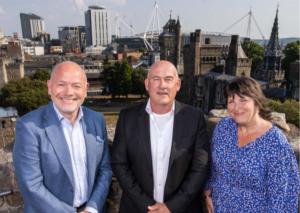 (LtoR Ieuan Evans, Richard Collier-Keywood and Alison Thorne pictured in Cardiff with the WRU's Principality Stadium in the background)
Richard Collier-Keywood, who is a former UK managing partner and Global vice-chair of PwC, has been a senior adviser to the Department for Digital, Culture, Media and Sport and will become the first independent chair of the WRU. His appointment comes alongside that of Alison Thorne, a short-listed contender for chair herself.
Richard, who has been chair of the board of trustees at SSE since 2017, has followed Welsh rugby passionately since the early 1970s. He will be the first appointed (rather than elected) chair in WRU history when he takes over from Ieuan Evans.
As well as these two key roles, Richard also currently chairs Fair4All Finance, funded by dormant assets to support financial inclusion. He is also on the Board of the National Community Lottery Fund and Women of the World, which promotes gender equality internationally. The appointment is a great step in Richard's commitment to improving society through working with local communities and purpose-driven businesses.
"I'm absolutely delighted to accept the role as chair of the WRU. Welsh rugby has always been hugely emotional for me and it is such a strength that there are millions of us that care and feel the same way," said Richard.
Richard will be building on the hard work of the current chair, Ieuan Evans by looking to:
developing and implementing a strategy that supports and drives all elements of Welsh rugby throughout both the women's and the men's game, increasing the amount that we can invest in both the professional game and the community;
establishing a new culture and implementing the recommendations of the ongoing independent review; and
working with the Board to ensure the right mix of skills and viewpoints are held to take Welsh rugby forward
"It is exciting that rugby is evolving to include the whole family and we need to recognise and support this as well as the very important role that it plays at the centre of many of our communities.
"Finally, we are excited about Wales' prospects for the future, not least the upcoming World Rugby U20s Championship in South Africa, the men's RWC in France and the World XV tournament for Wales' Women in New Zealand."
Commenting on Richard's appointment Ali Wilson, SSE CEO said: "Although we are reluctant to share him, we are excited that the WRU have recruited such an exceptional Chair. We wish Richard all the best with this exciting and challenging role".
Richard's appointment will begin a handover in the next weeks.