Moving beyond the rainbow
1 Jun 2022
This is a guest blog from SSE fellow Berkeley Wilde (he/him), Executive Director, The Diversity Trust CIC for Pride Month 2022.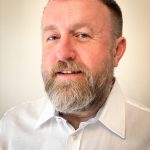 I came out as a gay man in the mid-80s. The political situation for LGBTQ+ people in the U.K. was frightening, and included the onslaught of Section 28 which prevented local authorities from giving grant funds to LGBTQ+ groups. A generation of young people has grown up with the legacy of Section 28, where their teachers felt unable to even discuss same-sex relationships in schools. This legacy persists today with high numbers of young people experiencing homophobic bullying in school simply for being queer – for being themselves.
On top of all this was an almost daily toxic media frenzy connecting gay and bisexual men to the global HIV and AIDS pandemic. It was a frightening time to take those first tentative steps to come out.
My own experience of this, and the huge levels of discrimination and stigma my newfound communities were experiencing, put a fire in my belly and led me towards campaigning and activism. I've set up safe spaces for LGBTQ+ adults and queer young people, and promoted LGBTQ+ health and well-being, with an urgency around mental health and sexual health. I sat at the board table with decision-makers, politicians, and other NGOs all working collaboratively.
Around twenty years ago, I began my social enterprise journey, founding and now leading The Diversity Trust CIC. Our mission is to 'influence social change to create a fairer and safer society'. We feel passionately about reducing inequalities and removing injustices, collectively working towards this, living truth to power.
There is still much work to be done regarding LGBTQ+ rights. Hate crime reports increase year on year. Bullying in schools is almost endemic. Conversion therapy, at the time of writing, is still legal. Refugee and asylum seekers are at risk from government policy. Queer people are still criminalised in 71 countries, including 11 jurisdictions still holding the death penalty on the statute.*
The UK has dropped from first place to 14th place, in the ILGA Europe table of LGBTQ+ rights, in seven years. The current UK government, despite one of the largest ever public consultations with 100,000 responses, has more or less completely stalled reform of the Gender Recognition Act 2004. Scotland, however, is planning to move forward with the reforms.
What do LGBTQ+ people want this Pride month?
We want to be safe in our schools and our workplaces. We want to be included – not excluded. We want to be treated fairly by the police and by governments. We want to be treated with dignity and respect by the media and by the law.
What can employers and social impact leaders do?
Reach out to LGBTQ+ colleagues and ask for their thoughts on making the workplace safer and more inclusive. Reach out to LGBTQ+ groups and organisations in your local area. Listen, then use your voice and influence to raise those around you.
Use your communications to amplify the LGBTQ+ community. Follow LGBTQ+ influencers on social media and read the works of LGBTQ+ authors.
Share key messages about the actions you're taking as an organisation or business.
Display your name and pronouns on your email signature and social media handles, and at in-person meeting and events – if you feel comfortable to do so.
Provide gender neutral options, where possible, but please don't repurpose accessible facilities.
Celebrate Pride month. But don't stop there – allyship is a permanent and ongoing commitment to change.
I am incredibly proud of my journey to influence social change. On my recent nomination for an award a friend and colleague wrote: "You have made a huge positive contribution to humanity locally, nationally and internationally. You have also provided a vehicle to empower others to spread the message."
If you'd like to get involved, or support our work, please visit our website or follow us on social media @DiversityTrust
*Source https://www.humandignitytrust.org/lgbt-the-law/map-of-criminalisation/