Learn how the impact of the pandemic on working mums could adversely affect the social economy
14 Jul 2020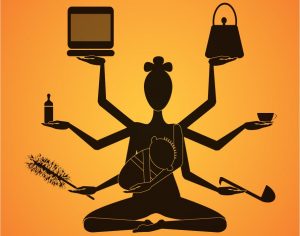 By comms manager and mother of two, Hannah C
We've always celebrated the fact that leaders of social change are more likely to be female (50%) compared to leaders of traditional business (34%).  But could the unequal impact of the pandemic put the long term leadership diversity of the social sector at risk?
An unequal burden of care
Working mums have been shouldering the caring responsibilities in the home during lock-down, according to University of Sussex recent research. Research by the universities of Oxford, Cambridge and Zurich during March and April showed that working women in the UK, Germany and the US did more childcare and home-schooling across all wage brackets, compared to men with similar earnings.
Thousands of mums have had to juggle running their social business and home like never before.  They are managing home-school, shopping, cooking, cleaning and bedtimes without the usual support from grandparents, friends, nurseries and schools.
We know they're a resilient bunch, but at what cost to themselves and the social economy?
Impact on the social economy and gender equality
Loss of capacity, leadership focus and just a lack of time will have taken its toll on the business.
Despite lock-downs easing around the world, many campaigners believe there will be a long-term impact on women's work and home lives as a result of the pandemic. A recent United Nations study even warned that the pandemic could dilute decades of advancement on gender equality.
Campaign groups such as Pregnant then Screwed have highlighted additional challenges women on maternity leave faced during or in the lead-up to the crisis. Self-employed mothers, for example, are losing out because financial support packages for self-employed workers are often based on average profits over several years, without accounting for periods of maternity leave.
Change-maker mums and long-term burn-out
This increase in unpaid work and competing priorities of work home life is detrimental to mental and physical health.   These busy working mums are at greater risk of burnout compared to their male counterparts than ever before.  And with a long summer ahead before (hopefully) schools start back in September, their situation could get a lot worse.
A social entrepreneur and mum's perspective
Fiona Small, founder of Young Mums Support Network (YMSN) is a single mum of two.  Her organisation aims to remove the stigma of underage pregnancy and help mums across the country realise their potential through training and work.
Throughout lockdown, she's been providing online support to vulnerable parents, mainly those who are trying to cope with home-schooling and work.
YMSN is also providing a phone support service for  mums who are feeling isolated and have recently moved away from their local area.  Many of these women have no access to support and have been impacted by domestic violence or have had their children removed by social services.
Fiona's advice to other working mums: "Take it easy on yourself.  No two days will be the same.  Focus on your well-being first and be realistic about what you can achieve during the day. Find your flow, know when to down tools, keep a check on how you are feeling.  Don't try to be superwoman!"
Further support
Get in touch

Female social entrepreneurs (mums, carers, co-parents and child-free) get in touch and share your leadership stories and coping strategies.
[email protected] or message me at LinkedIn