Introducing #SSEtalks – "Andy Haldane in conversation with the School for Social Entrepreneurs".
15 Jun 2023
SSE was delighted to host Andy Haldane yesterday evening, to launch an exciting new series of in-person events.
As someone who sits across many influential positions, both in civil society and Government, it was a pleasure to invite Andy Haldane to our London offices and discuss some of the sector's biggest issues in front of an audience of charity funders, leaders, and practitioners.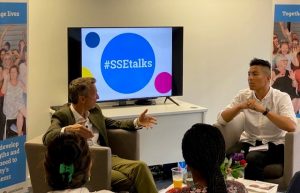 Few people are as well informed as Andy Haldane on economic policy and social impact – nor as well placed to act on that knowledge with influence. CEO of the Royal Society of Arts and formerly Chief Economist at the Bank of England, where he also sat on the Monetary Policy Committee, Andy now Chairs the Government's Levelling Up Advisory Council, and is a senior economic advisor to Chancellor of Exchequer Jeremy Hunt. Frequently quoted by  the media as an influential voice in Westminster, Andy is often found contributing to the BBC Today Programme, New Statesman and the Guardian.
During the conversation with Robin Chu (SSE's director of strategic projects), Andy pointed to the power of collaboration between public, private and Civil Society to tackle society's biggest problems. The last of the trio has been underinvested in but he said often the sector has an 'infantilised relationship with government' and does not put its best foot forward grabbing on what works:
"All of this criticism [about neglect of civil society] applies to the government, but the sector doesn't always put its best foot forward and sometimes has had a rather infantilized relationship with central government [by saying] we're doing all these good things and give us more money with backing up its impact with clear evidence and without necessarily seeking alternative sources of financing, which takes us on to Match Trading, it takes us onto social enterprise as a different vehicle for breaking into change"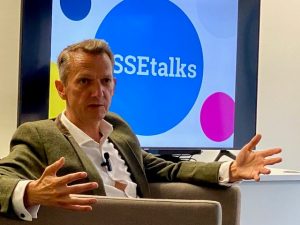 Andy did not disappoint our audience who witnessed an open exchange of ideas led by Robin, with their conversation touching upon public sector reform, ways to give agency to marginalised communities and Match Trading ™ as a policy instrument. Andy was clear about the scale and systemic nature of change he sees as necessary:
"Too much fixing goes on in public policy, and not enough shifting things goes on in public policy. If what you think your job is, is to take something that isn't quite working and tinker with it to make it a bit better, almost certainly what you'll achieve is pretty miniscule. The system itself is in the wrong shape. It's the wrong system. Unless you are shifting systems you're shifting almost nothing at all."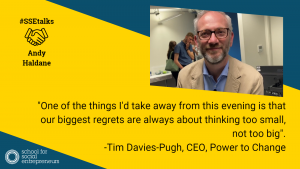 During the conversation, Match Trading was cited as the foundation of the relationship between SSE and The RSA. Robin asked what drew Andy to Match Trading as a potential policy instrument for social change.
"I saw Match Trading as a way of making concrete the relationship between private and public sector." Andy answered. "It is an example of an innovative approach to deal with the issues of civil society that has great merit. Not all innovative ideas will work, but coming from a financial background I saw it was an innovative idea that was worth hanging onto".
With questions invited from the audience, Andy responded to one from Sharmin Shajahan PhD (Deputy Director at Voice4Change England), asking how we can strengthen civil society:
"One idea is to have voluntary and charity activities recognised much more clearly in peoples' CVs. I like the idea of people having some sort of digital passports which recognises, and might even reward, people's giving of their time. Partly as a way of encouraging even more people to take part in these activities but also a way to recognise this as a valid career pathway".
#SSEtalks borrows a component of SSE learning programmes in which 'expert witnesses' share their leadership lessons and sector knowledge with our social entrepreneurs. We're opening the concept to a wider sector audience by convening this new series of events to help forge new and deeper connections between industry leaders and the wider sector.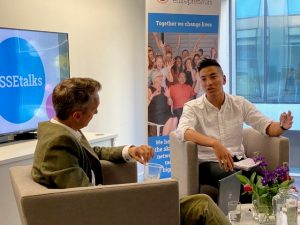 Robin Chu, Director of Strategic Projects, School for Social Entrepreneurs:
 "As a learning organisation at its heart, SSE is all about stimulating social enterprises across the UK to do what we know they do best – simultaneously creating positive impact and contributing economically to their communities. Andy Haldane is rightly one of the UK's most respected voices on the big issues of today and it's a privilege to talk with him on our sector's biggest issues in front of an audience of sector leaders, funders, and practitioners. This feels like the start of something special and a call to action to those holding the pen on policy to engage with our sector".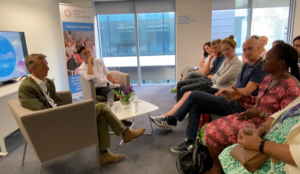 This event was an optimistic starting point for a conversation about future societal change and SSE were delighted to hear Andy's views and share the conversation with sector friends.
#SSEtalks will become a regular series, touring Britain in the many regions where SSE supports place-based programmes for social and environmental change. We aim to create a space for vital conversations around economic and social renewal with multiple industry experts.
We are planning our next event in the South West of the England for early Autumn. Follow us on Eventbrite to be notified of future dates and to also find more about our upcoming Parliamentary event, where we will celebrating the success of the social enterprise movement and asking, with the help of a stellar panel including Bonnie Chiu (CEO of The Social Investment Consultancy and a Co-founder on Pathway Fund), Seb Elsworth MBE (CEO – Access) and Yvonne Farquharson (Founder and MD, Breathe Arts Health Research), 'How do we create the right conditions for growth and impact across the UK?'.
Head to the Match Trading website to find out why Andy Haldane's so enthusiastic about SSE's innovation in grant-funding.