Five reasons social enterprise is basically just awesome
11 Oct 2019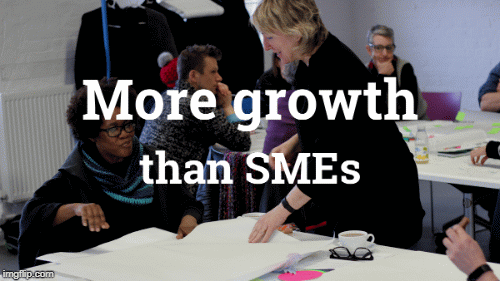 I'm probably preaching to the converted here, but social enterprise is shaping the world in amazing ways. Don't just take my word for it. We've got some deliciously fresh new evidence to prove how powerful this sector is. In brief: social enterprises are outperforming traditional businesses in measures that matter.
Social Enterprise UK's State of Social Enterprise 2019 is the most comprehensive survey of social enterprises in the UK, and it was released this week. Here are our key take-aways:
1. Social enterprises are outperforming SMEs in growth
 Size isn't everything – but demonstrating the growth of our sector definitely helps people take social enterprise more seriously. More than half of social enterprises grew their turnover in the past year (52%), compared with only one-third of small and medium-sized enterprises, also known as "SMEs" (34%).
2. We don't just pay lip-service to diversity – we live it
Everyone's talking about diversity and inclusion these days. Which is great – except it can feel like a lot of hot air when organisations aren't walking their own talk. There are now only four female CEOs in the FTSE 100 (the biggest 100 public companies in the UK, by market capitalisation). Compare that with a whopping 40% of social enterprises being led by women across the UK – and at SSE, more than 70% of the social entrepreneurs we support are women or trans women.
Social enterprises are also much more likely to be led by people from black, Asian and minority ethnic backgrounds (BAME) than other organisations in sectors: "13% are BAME-led," according to SEUK's research. This proportion rises at SSE, where 19% of the people we support are from BAME backgrounds.
In the traditional business world, only 5% of SMEs are led by people from BAME backgrounds, according to government figures. In the charity sector, 93% of CEOs are from white backgrounds. (Read more about how we believe charities can learn from social enterprises on diversity in our MD Nicola Steuer's column for Third Sector.)
More than a third of social enterprises have a director with a disability, according to SEUK. One in five social enterprises work with people with physical disabilities, while one in 10 seek to employ them, and one in five work with people with a learning disability.
3. Social enterprises are tackling the climate crisis (not to mention helping people)
You might deduce from the name that social enterprises are all about helping people and creating social change. But this year's survey also revealed that we're committing to tackling climate change too. Two-thirds of social enterprises are expecting their focus on sustainable and environmentally friendly processes to increase within the next two to three years.
4. We're reducing poverty and inequality by working in the most deprived areas
Some 22% of social enterprises are working in the 20% most-deprived areas in the UK. (The proportion is even higher among social entrepreneurs we support: one-third are working in the 20% most-deprived areas.)
Social enterprises are bringing economic growth to these communities, lifting them out of poverty and reducing regional inequality. As SEUK explains: "social enterprises are showing that with the right structures, local economies can be turned around".
5. We innovate like the clappers
More than half of UK social enterprises have introduced a new product or service in the past year (56%). This compares with only one-third of SMEs (36%) – yet another example of how our sector is outstripping mainstream business.
*
All that said, we've still got a way to go…
Social enterprise is pioneering a better way for our economy and society. We are outperforming traditional business in terms of diverse leadership, innovation and growth, all the while tackling society's biggest problems as a matter of course.
But we are still small. There are now 100,000 social enterprises in the UK – more than ever before. Yet this is less than 2% of the 5.7 million SMEs in our country. Most social enterprises are also small organisations: two-thirds have a turnover of less than £100,000 a year. (This is in part because swathes of our sector are still relatively young: 42% of social enterprises are less than five years old.)
Now is the time to raise our voice. Let's use the evidence to explain why social enterprise matters so much.
Let's be bold, keep building, and believe in a future where social enterprise is the mainstream.
By Sophie Hobson, SSE's head of communications. Chat to her @sophiehobson