Female Social Entrepreneurs from the United Arab Emirates join SSE Cornwall
23 Aug 2018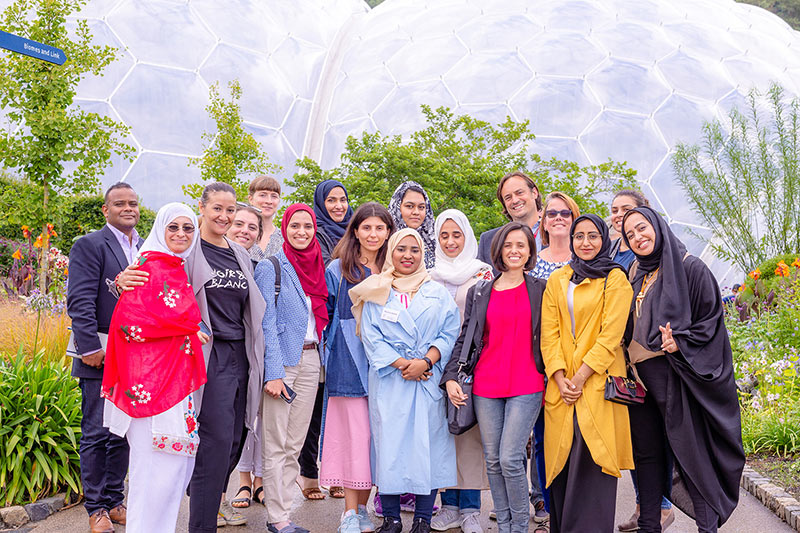 Fifteen female social entrepreneurs from the United Arab Emirates visited Cornwall earlier this summer as part of the Badiri Social Entrepreneurship Programme (BSEP), a collaboration between Badiri Education and Development Academy, the education arm of NAMA Women Advancement Establishment (NAMA) and the UK-based School for Social Entrepreneurs (SSE).
Their three-day visit to Cornwall was part of a unique 10-month SSE International programme and included innovative study sessions and a project visit to the fabulous Eden Project, one of the region's most iconic social enterprises. The group were joined by SSE Cornwall Fellows who shared their own journeys and inspiration with the ladies from the UAE.
Sally Heard, CEO of SSE Cornwall said:
"Leading on this unique international SSE programme has been an incredible experience and a first for SSE Cornwall.  I look forward to returning to Sharjah again in September to work with our inspirational group of female social entrepreneurs.
"We were thrilled to welcome the ladies to Cornwall and showcase our thriving social enterprise community. It was fascinating to hear how opportunities have opened up for women in business in the UAE, and I hope the participants took inspiration from the SSE fellows who came to share their stories."
The aims of Badiri Education and Development Academy align with the School for Social Entrepreneurs' own aims: to bring together people who want to change things for the better, tackling urgent issues like poverty, education, inequality, health, climate change and more. The participants from the UAE will continue onto SSE India later in the year and complete their programme with a prestigious Graduation ceremony in Sharjah in December.