Devon's local economy, resilience and the Ohio experiment
20 May 2022
This is a guest blog from Gill Westcott, Director, New Prosperity Devon.
New Prosperity Devon are partnering with us to deliver Supplying Devon Shared Prosperity – a programme of events supporting social enterprises in becoming providers for local institutions, and for public sector procurement and commissioning professionals.
It's part of the Devon Social Entrepreneurs Programme,  led by the School for Social Entrepreneurs (SSE) in partnership with Devon Communities Together, Stir to Action and New Prosperity Devon.  It is funded by the UK Government through the UK Community Renewal Fund, which is managed by Devon County Council within the Devon area.​
Could Devon build community wealth by filling supply chain gaps?
Many institutions and local authorities today are helping to build their local economy by spending more locally. Although finance for business support is hard to come by, everyday spending by institutions can be a powerful engine for local wealth creation. Like a rudder, this spend can be used to steer where businesses grow, and councils from Preston in Lancashire to North Ayrshire in Scotland, to Plymouth, Torbay and Devon County Council, have been seeking to spend more locally. This has benefits for sustainability, cutting transport emissions and creating local livelihoods.
But what if there is no local producer to buy from, or none big enough to meet the needs of local institutions like hospitals and universities?
From financial crisis to economic transformation
This story goes back beyond the Preston model, to the devastated and backward economy of post-war Spain, where a catholic priest founded a technical college in one of the poorest regions, to train young people in modern trades and skills. Then he founded co-ops to employ them, a fridge factory, other businesses, a bank…. The Mondragon co-operatives have revolutionised the economy of the Basque country, providing stable well-paid jobs which survived the financial crisis with minimal loss of employment. It was this example which inspired the Democracy Collaborative in Cleveland, Ohio, which in turn has been such a compelling example for employment creation in the UK.
Cleveland had lost its traditional industries, with poverty and unemployment worsened by the financial crisis. In 2009, a group of local institutions – the city council, universities and hospitals, together with their local bank, collaborated to found the first of three large co-operatives to fill the gaps in local provision and localise some of their key supplies.
The first of these 'Evergreen Co-ops' was a huge laundry, established to serve the city's hospitals and clinics. With guaranteed custom, the co-op could raise finance, invest, and create jobs, including for youth, unemployed, disabled, or people with prison records who otherwise struggled to gain employment. The co-operative structure ensures that when the companies distribute profits, these go to their own workers, and hence to their neighbourhoods, rather than leaving the area to distant shareholders.
Workers can apply to become members after a six months' probation, becoming part owners of the business, with a vote in decisions about company governance, a source of pride and a sense of belonging.
This is a clear example of how co-ops and social enterprises give added value when institutions buy from them. Co-ops and social enterprises distribute surpluses in line with their mission and purpose – and with co-ops these are their members.
Two further co-ops were established, both at scale: a solar energy generation company and a horticultural co-op producing salads in large greenhouses. The benefits have spread throughout the city economy*
Creating shared prosperity in Ohio and Devon
The continuing 'Devon Social Entrepreneurs Programme', funded by the UK Community Renewal Fund, is giving a boost to rural social enterprises and other businesses committed to public good, with learning programmes under way, workshops online and in person, and one-to-one mentoring and support. Supplying public sector institutions is the focus for events in the 'Supplying Devon: Shared Prosperity' series, with three workshops for social enterprises, charities, co-ops and community groups, one for procurement and commissioning managers and councillors, and one for both groups.
The crucial factor in Cleveland was the city anchor institutions working together. Devon local authorities and public services together have a spend of well over £1 billion a year. Could Devon institutions collaboratively support some local gap-filling? Could they, in this way, create well rewarded, fulfilling new jobs, cut carbon emissions, and make the Devon economy more resilient when global supply chains are disrupted by weather, war or pandemic?
Another crucial factor was local finance from the Bank of North Dakota, which, like other regional banks in US and Germany, supported local banks and businesses through the financial crisis, sustaining employment levels** The importance of this is emphasised in this short video on Community Wealth Building in Cleveland.
Unlike Cleveland, Ohio, Devon's challenge is not high levels of unemployment, though there are pockets of deprivation and many groups with low income; it's providing good livelihoods which are resilient to disruption and don't wreck the planet. Yet perhaps by following this well-tested route, establishing democratic businesses to supply local needs, our institutions in Devon could work together to fill supply chain gaps and create a more resilient, prosperous economy.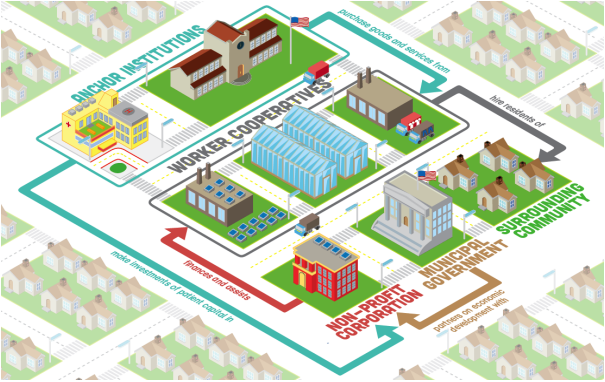 Image credit: The Next System Project 2 A regional bank is also planned for the South West region in the UK, the South West Mutual a customer-owned bank able to support local businesses and the creation of local social value.
* http://www.evgoh.com/ and see also https://www.youtube.com/watch?v=-rQY_jD2NzE
**A regional bank is also planned for the South West region in the UK, the South West Mutual a customer-owned bank able to support local businesses and the creation of local social value.