Camden Council partners with SSE to help grow start-up businesses and social enterprises in the district with Match Trading grants. 
3 Oct 2023
Camden Council have partnered with SSE on the second round of the Future Camden Fund, which is now open for applications to help impactful start-up businesses and social enterprises in Camden grow and thrive.
SSE is excited to partner with the Inclusive Economy team at Camden Council, as they offer a number of Match Trading™ grants to local social enterprises and impact drive start-ups based in the district. The incentivised grants, developed by SSE since 2016, will be delivered as part of the Future Camden Fund. 
Last year, the Council awarded £165,000 to start-ups that deliver social value to local people through a wide range of work, including education, arts and culture and wellbeing. 
The Future Camden Fund is part of Camden Council's programme of finance and support for businesses that are building a better future for the Camden borough and its communities. 
An additional £350,000 is now available for businesses to apply for two types of funding: Match Trading grants and loans. 
Social enterprises enrolled onto the Match Trading element will be incentivised to grow their income from trading; each additional £1 a business makes over a year will be matched with £1 in grant funding, up to a capped amount. Loans of £10,000 to £50,000 are also available, repayable over three years with a flat 5% interest rate. 
The fund will also offer a whole host of free business support to recipients including mentoring, learning courses and peer support. 
"Camden continues to be the best place in London to do business – already the borough has seen the highest number of new businesses set up than in any local authority area this year. In 2022, we launched the Future Camden Fund, a local impact fund that was the first of its kind for a London borough, which supported 11 grassroots social enterprises delivering real benefits to local people. This round we are pledging an additional £350,000 in funding for local businesses alongside a package of free business support that considers and celebrates the diversity of our borough's entrepreneurs. 

We are committed to making Camden's local economy strong, sustainable, and inclusive. No one should be prevented from launching their own business because of their background or barriers to finance and our new affordable loan and Match Trading offer will continue to support growth while benefiting local communities". 

Councillor Danny Beales, Cabinet Member for New Homes, Jobs and Community Investment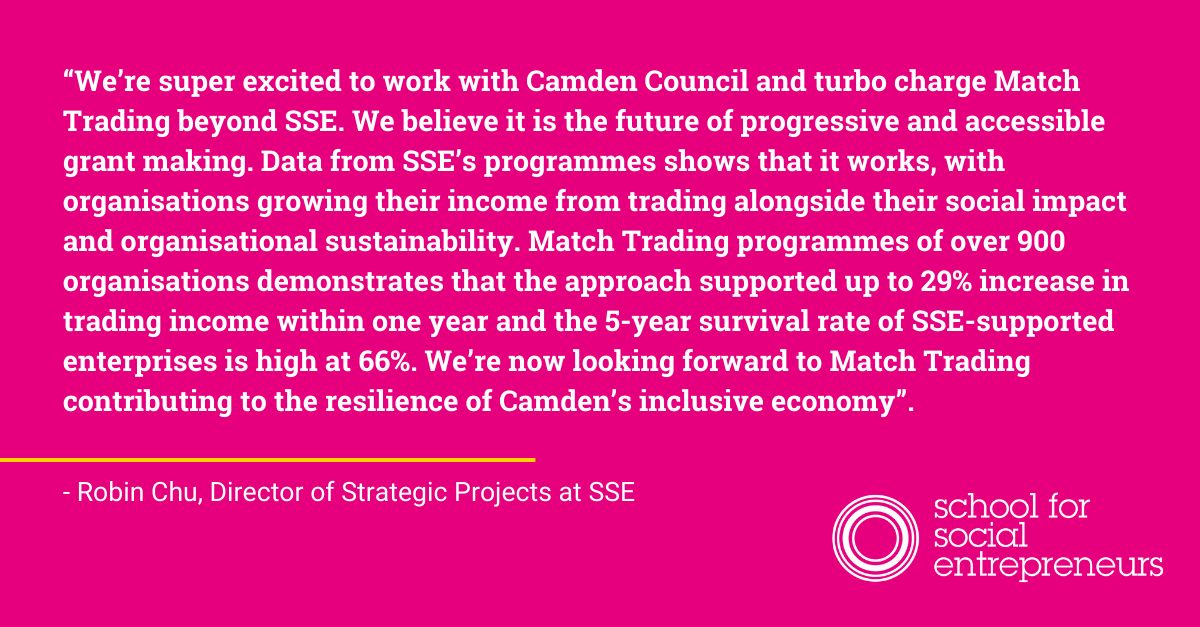 The funding round will continue to support local entrepreneurs from backgrounds that are often locked out from other sources of finance, including those from Black, Asian and other ethnic community backgrounds, those who are disabled, care leavers and female business founders. 
Successful applicants will also receive free support to help grow their business, including consultancy, courses and networking. The Council has commissioned charity Action for Race Equality to deliver business support that considers the diversity of Camden's business community, and the different experiences and barriers individuals may face. Businesses will also be able to access online learning materials from the School for Social Entrepreneurs. 
Applications open on Monday 2 October and will remain open until the funding has run out. 
The Future Camden Fund will seek to support start-ups to grow their products and services that support inclusive job creation and growth, sustainability, and the environment. 
For more information on the scheme and to submit an expression of interest, please visit camden.gov.uk/future-camden-fund. 
Press contacts available for questions
Robin Chu, director of strategic projects, at School for Social Entrepreneurs [email protected]

 
Notes to editors
About the The School for Social Entrepreneurs (SSE) 
We can't fix issues like poverty, climate change and ill-health alone. That's why the School for Social Entrepreneurs exists. SSE helps 1,000 people a year develop the skills, strengths, and networks they need to tackle society's biggest problems. It runs courses that equip people to start, scale and strengthen organisations that make a positive difference. But it is not a traditional school. Learning with SSE is inspiring, action-based, and accessible. SSE supports people in other ways too, such as funding and mentoring. Lord Michael Young founded SSE in 1997, and it's grown to a network of schools across the UK, Canada, and India. Together, SSE is changing lives and transforming communities. www.the-sse.org.    
Social enterprises aim to make a positive impact on society or the environment, in addition to generating income. Their profits are reinvested back into the business or community.    
Match Trading is a pioneering innovation in grant-funding from School for Social Entrepreneurs that incentivises growth through trading. It provides social entrepreneurs with funding that pound-for-pound matches an increase in traded income, supported by a bespoke learning programme. Match Trading bolsters the sustainability of organisations operating in challenging markets. It empowers them to deliver on their impact objectives by entering new markets, testing out new products and diversifying their income streams.   
Data from Match Trading programmes delivered to 871 organisations demonstrate that the approach supports up to 29% uplift in income from trading within one year, and that this uplift is sustained in subsequent years. Moreover, a control group study by Power to Change revealed that Match Trading grants drive an increase in income from trading as a proportion of total revenue – a 9.5% point shift in 'trading ratio' compared to traditional grants.   
About the Future Camden Fund
Future Camden Fund – Camden Council