Building Scotland's social economy with grant innovation
1 Mar 2021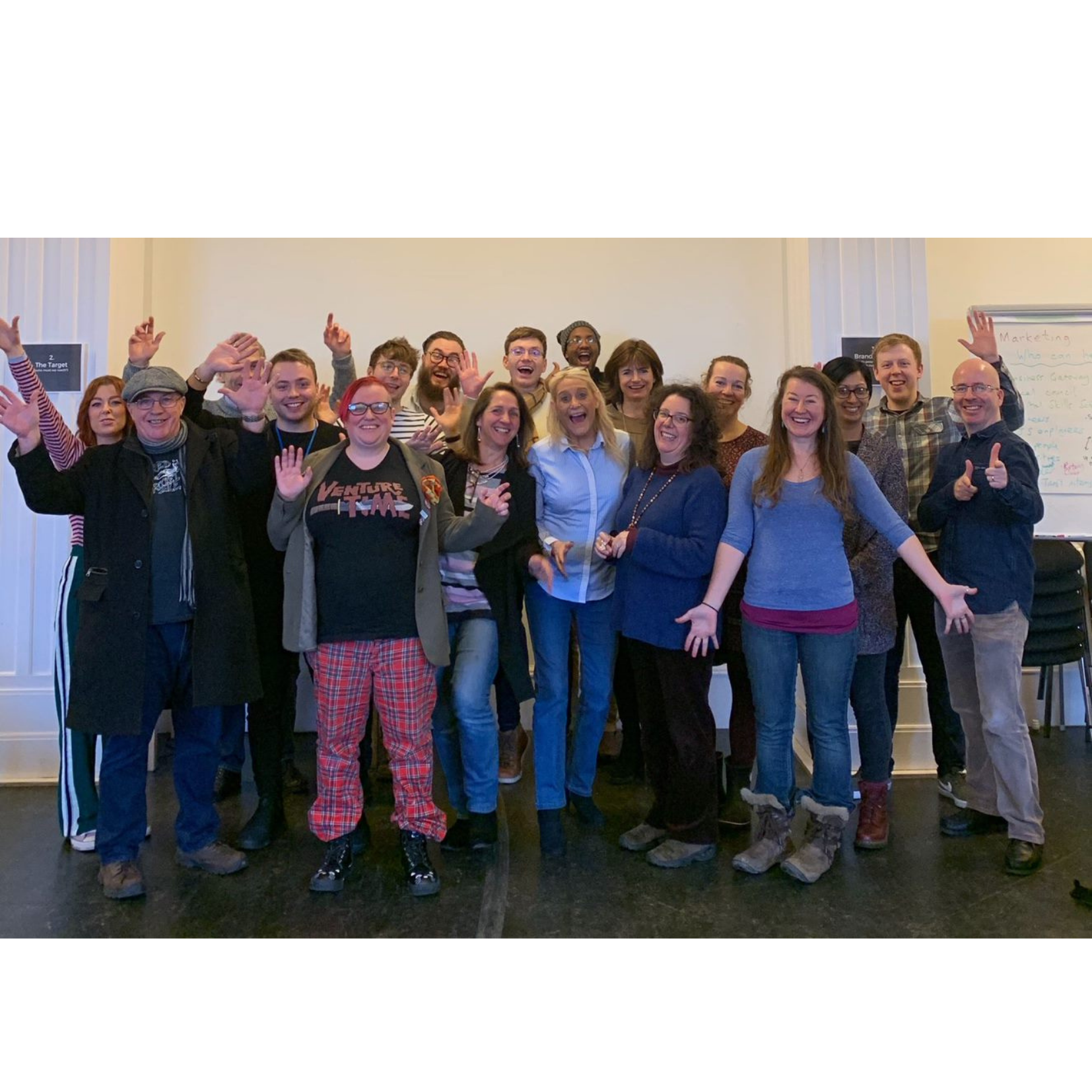 Innovations in grant funding do not come along very often.  When they do, we must monitor their impact, share learnings, in order to improve the way the social sector is financed and supported.  And the economic and social impact of the pandemic has meant that how funders administer grants matters now more than ever before.
Leaders from Scotland's funding community came together to discover and celebrate the impact of Match Trading® grants, an innovation in grant funding.  Launched in 2017 and created by the School for Social Entrepreneurs (SSE), these enterprise grants work to reduce grant dependency and support the trading ambitions of social enterprises, charities, and community businesses.
The Bank of Scotland, Scottish Government and The National Lottery Community Fund were early pioneers of these grants in Scotland via The Bank of Scotland Social Entrepreneurs Trade Up Programme. This ground-breaking programme received funding through the 'innovation' element of the Scottish Government's 10-year Social Enterprise Strategy.
Impact in Scotland*
Match Trading grants support growth in social sector trading
A typical social enterprise increased their income from trading by 71%.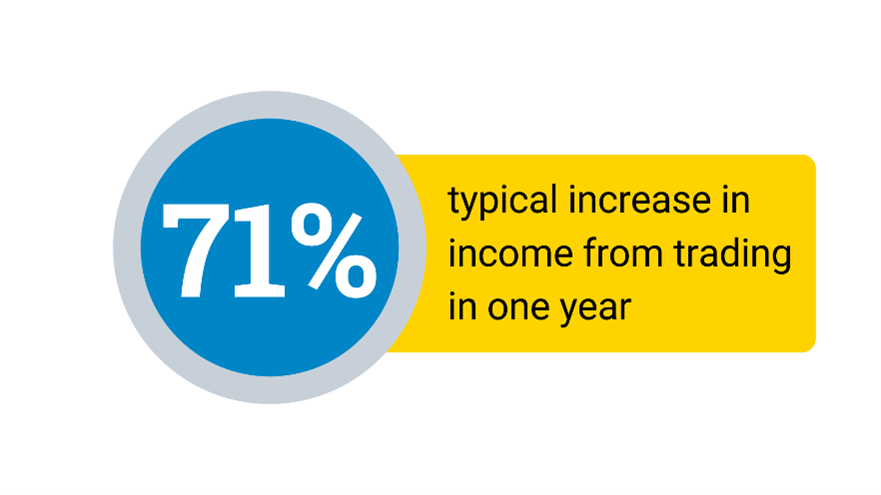 Match Trading grants reduce grant dependency.
Social entrepreneurs increased the ratio of their trading income vs non-trading income (ie grants) from 48% to 65% in just one year.  This is great news for funders who are looking to support social sector to become less grant dependent.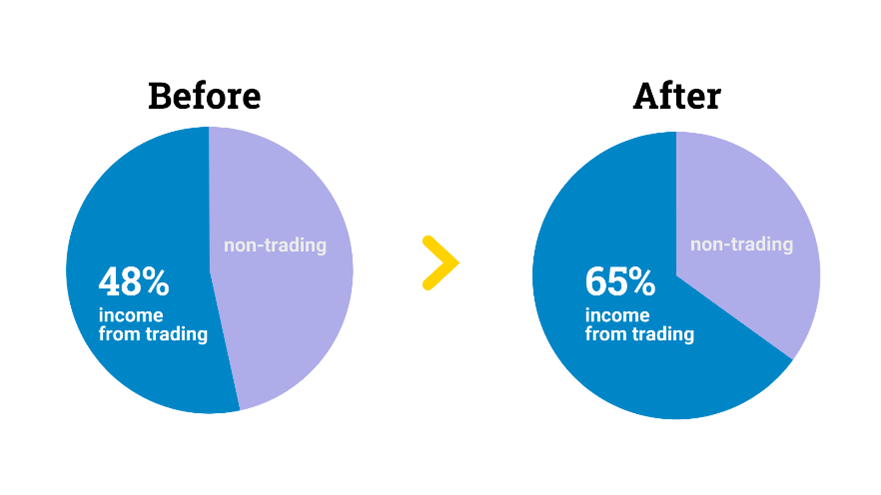 * Stats based on 2018-19 programme.  Size of grant= up to £5000 grant amount.  Median used n=20
Celebration event
The impact results were shared at an exclusive online event for funders, hosted by SSE.  The panel of speakers included: Aileen Campbell – Cabinet Secretary for Communities and Local Government, Scottish government; Roddy Byers, Head of Funding at The National Lottery Community Fund; Tracey Muirhead, Director, SSE Scotland and Alastair Wilson, chief executive at SSE.
Taylor McInroy, founder of Ayrshire Film Co CIC and Hermine Mbiku Kinkela, founder of Mbikudi – Naturally Powerful shared their personal experiences as grantees and participants in the Bank of Scotland Social Entrepreneurs Trade Up Programme.
This 5 minute film, created by Ayrshire Film Co CIC was debuted at the event and captured the programme and the social entrepreneurs' stories.
Aileen Campbell – Cabinet Secretary for Communities and Local Government, Scottish government said
"Across Scotland, our third sector and social enterprise sectors have been at the forefront of the coronavirus response – supporting communities that are at most disadvantage. The social sector is vibrant, innovative and able to overcome challenges.  I want to thank SSE and all their social entrepreneurs for all their hard work throughout the pandemic.
"Social enterprises exemplify community cohesion.  And the variety is incredible – from driving buses, making videos and magazines to serving coffee.  In amongst the innovation, SSE offers entrepreneurs the support they need to put ideas into practice, measure and share their impact, whilst staying true to their social purpose and mission.
"As we emerge from the pandemic, at the forefront of the economic recovery will be social entrepreneurs. Through supporting social enterprises we also support community wealth building and help create a wellbeing economy."
Roddy Byers, Head of Funding at The National Lottery Community Fund, said
"Match Trading grants allow us to provide grant funding in a more constructive way.  We are very mindful that traditional grants don't always help the social enterprise sector grow and can sometimes even undermine growth by creating grant dependency. Growth comes when social enterprises trade in order to support themselves.
"There's not a single solution to financing and we work with lots of organisations across a range of financing models from loans, investment and grants.
"Whilst still a new concept, we've committed to support Match Trading and work with SSE as a trusted partner with a proven track record.
"We're also interested in the application of larger sized Match Trading grants and would welcome discussion with other sector leaders who might share that ambition for social enterprise."
Watch the event recording here
Prior to the event, SSE Scotland shared a selection of stories from the 20 social entrepreneurs who took part in the programme via #TradeUpFellowsScotland.  Check out and share their stories on Facebook here
Inspiring social entrepreneurs
Hermine's business makes natural skin care and hair products for women and children from low-income backgrounds.
"One of the things Trade Up taught me was to capture all the good thing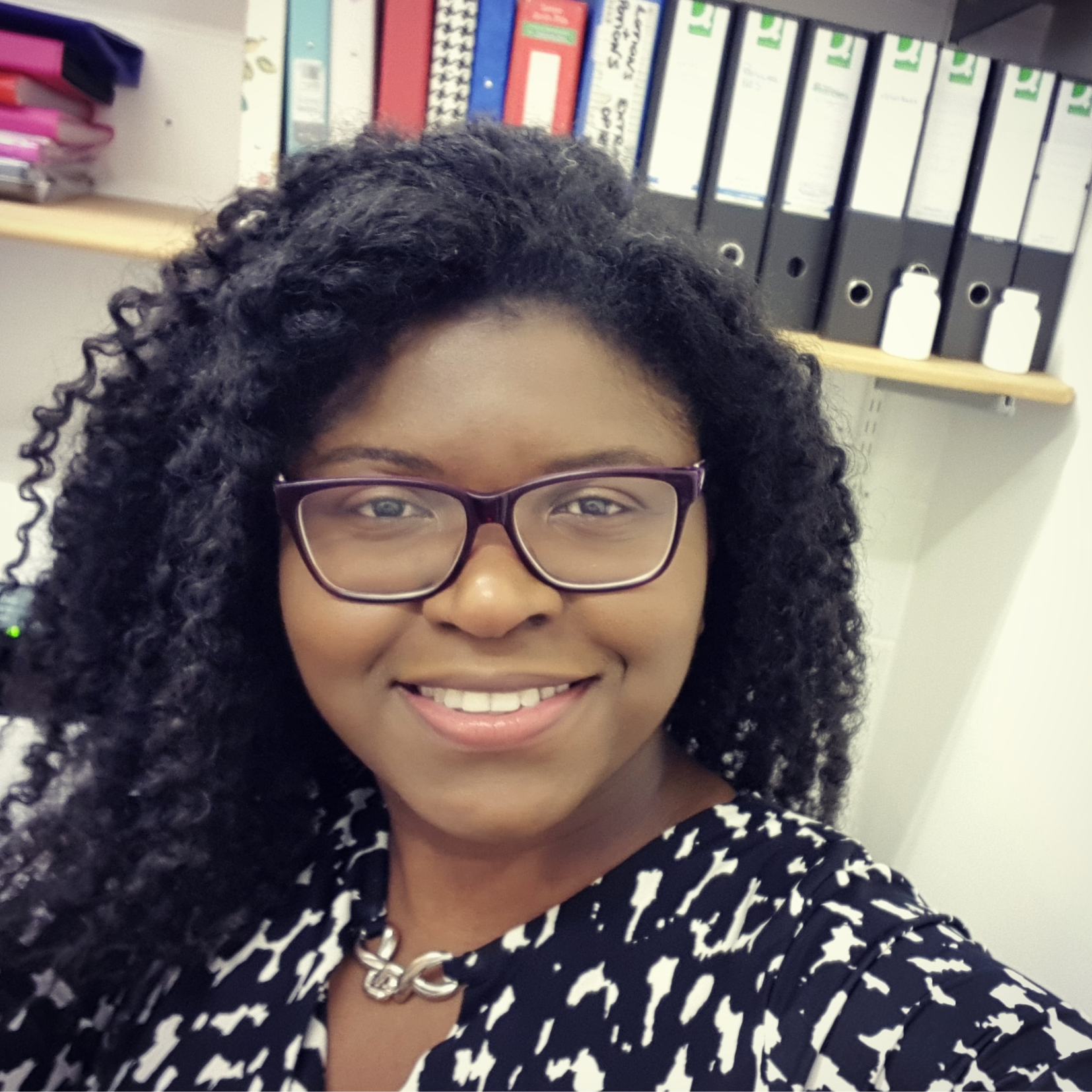 s that were happening to the business.  It really changed our organization, made us see the potential and introduced us to new markets.
"Taking on a premises for the first time was scary for me but the Action Learning Sets really helped me to work through this.  The grant helped me to transition from working from home to moving into an office.
"With the pandemic we had to change our offering.  But I was more resilient and was open to opportunities.  Our online workshops are now nationwide and we're hopeful for the future."
Taylor's film production company aims to make content that has a positive impact and provides opportunities for young people in filmmaking.   "A friend recommended SSE to me.  We wanted to grow but we weren't sure how.
"The programme gave us the chance to take time out of the business to actually think about and work on the business.  The grant gave us the option to invest in new equipment and our prospects are good.
"When the pandemic hit, our film making work was cancelled overnight. The Trade Up programme had made us more resilient and thanks to the zoom revolution, we were able to adapt the business and focus on editing content instead.  Our prospects look good and we're about to take on an apprentice via the Kickstart scheme."
This unique wrap around learning programme gives social enterprises, charities, and community business leaders – 14 learning days to help grow their trading income and impact.  The programme also matches them with a mentor, and they learn with a support network of others at similar stages of growth.  They also benefit from up to £5,000 Match Trading grant.
We help 1,000 people a year develop the skills, strengths, and networks they need to tackle society's biggest problems. We run courses that equip people to start, scale and strengthen organisations that make a positive difference.
Read more about the social enterprise and community businesses in Scotland here
Created by SSE, Match Trading is grant-funding that pound-for-pound matches an increase in income from trading.
Match Trading grants are made possible with the support of pioneer partners, Lloyds Banking Group and The National Lottery Community Fund, and development is overseen by a Task Force of 20+ leading social-sector organisations.
Match Trading grants explained
Match Trading is one of 20 proposals in Danny Kruger MP's report to government, Levelling up our communities: proposals for a new social covenant.
Written by Hannah C, SSE's Comms lead for Match Trading.