Black Social Entrepreneurs Scotland – Opening doors and building hope
27 Apr 2023
At SSE we pride ourselves in fighting for equality, diversity and inclusion and so it is no surprise that we had our first Black Social Entrepreneurs Scotland graduation. This is a  continuation of our work with Black Social Entrepreneurs across England.
Currently in Scotland, only 3% are from an ethnic minority hence the need to focus and boost the representation of the black community in Scotland.
The Black Social Entrepreneurs Scotland programme was funded by PricewaterhouseCoopers (PWC) and the graduation hosted at their amazing Glasgow office on the 19th of April 2023.
The cohorts and members of SSE and PWC sat at a table, and we heard the invaluable stories of the 7 black women that participated in this programme.
From Kay Thomson from Supported Living Sycamore, who mentioned that "finding this programme, especially as a black woman, the process feels easy" to Moji Adefuwa from Granite City Alphas, who stated that "with the confidence the programme gave me, I reached out to people with similar interests and mindset and put myself out there."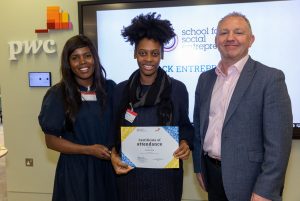 Gen Bailey from Goodstuffonline also said:
"The programme was very useful. I always had a barrier with regards to business. Going through this programme and have things in a set process has removed that barrier. Having the mentality to keep going and try something different that if something fails is key. Having the group has been encouraging and motivating. Every time we got together was like fuel adding to the fire. The support I had from the group from Bayile and the SSE staff was amazing."
Tracey Muirhead, SSE Scotland's regional director assured the cohort that:
"We will make sure that you will be connected, and we can work with you to make sure we put you in touch with the key players of the social enterprise sector in Scotland."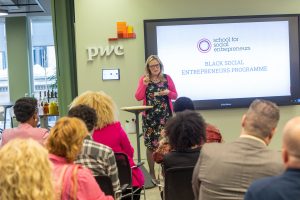 Graduation Ceremony
After this, we then proceeded to the graduation ceremony with David Adair, PWC Director of Community Engagement and The PwC Foundation UK, presenting each member of the cohort with their certificate.
Bayile Adeoti, the Black Social Entrepreneurship Programme Scotland leader presented a video and did an outstanding job in enhancing and motivating each member. In her  emotional speech she thanked the cohort, SSE and PWC. She provided advice to the cohort saying that they just need to "keep going" and mentioned that PWC "put their money where their mouth is" with the Colour Brave initiative and now supporting the Black Social Entrepreneurs Scotland.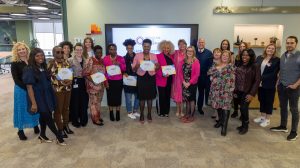 David Adair, PWC Director of Community Engagement and The PwC Foundation UK also stated:
"It's been truly inspirational to have the opportunity to meet those benefiting from our Black Social Entrepreneurship Programme in partnership with The School for Social Entrepreneurs Scotland. It's absolutely vital to support diversity across the business community and the voluntary sector, by helping entrepreneurs who face a very specific and unique set of challenges at such a crucial stage in their endeavours, we're playing our part in giving them the best possible start. Our people across PwC Scotland have an abundance of expertise and advice to offer, and it's clear from the successes experienced by participants that working together has proven beneficial to all involved. We wish them every success in the future and look forward to seeing each of the enterprises grow."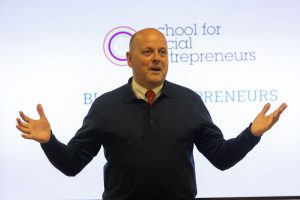 David Adair also praised the cohort and mentioned that "we look forward for this programme becoming even bigger and better".
One of the cohorts, Alice Gababyat from Adroit Christian Education stated that: "The future is bright as I can see a lot of things happening."
At SSE and PWC we are inclined to agree with Alice as we hope that this partnership will last for many years.