Artistic Spectrum winner in National Lottery People's Projects vote
23 Mar 2016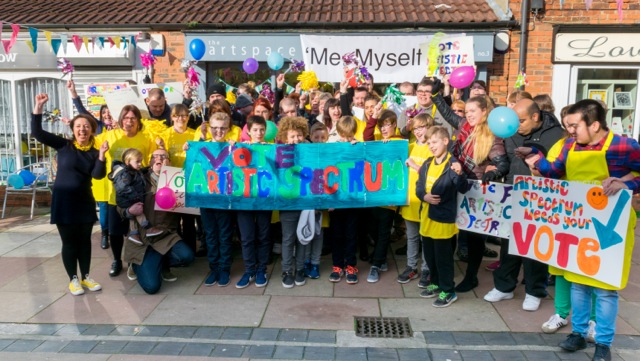 Part of the money will be used to take our autistic students, their families and support workers to see the work exhibited in London and to raise awareness of the condition now thought to affect up to one in a hundred people.
Said Caroline Flint MP: "It's fantastic news that Artistic Spectrum and their innovative project 'Me, Myself & I' has been selected to receive the Lottery funding and I look forward to seeing the exhibition in Westminster Palace".
The whole of the Doncaster voluntary and community sector has got behind Artistic Spectrum, helping to mobilise support throughout the Borough and beyond.
Says Norma Wardman, Director of Doncaster CVS which has supported Artistic Spectrum from day one: " The entire team at Doncaster CVS are delighted to hear this news. Artistic Spectrum is a fantastic example of a social enterprise that has  achieved so much in the community and voluntary sector in Doncaster. We wish her all the best for her brilliant project."
Artistic Spectrum has the celebrity backing of Sophie McShera who played kitchen maid, Daisy Robinson in Downton Abbey and officially opened the group's home, The Artspace, in Thorne back in 2013.
Says Sophie: "Artistic Spectrum do amazing work to help people with autism do the things we take for granted like socialising, having fun and feeling a proud sense of achievement by creating beautiful works of art and I'm extremely pleased that people have voted for this fantastic project" says Sophie