A snapshot of SSE's year: our annual report 2018-19
7 Nov 2019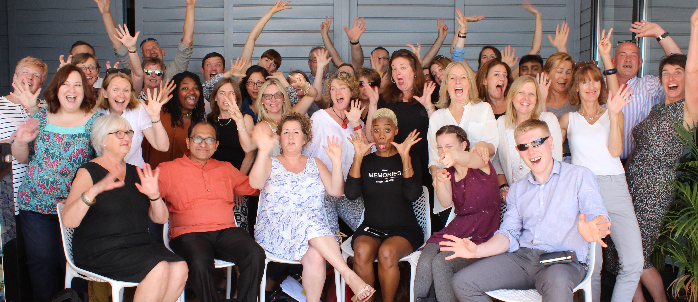 As many of you reading this will know, annual reports take a lot of time and effort – plus the occasional spilling of blood, sweat and tears! As a charity, the School for Social Entrepreneurs has to create an annual report and set of accounts, by law. But for us, this is not just about box-ticking.
Our annual report is also a brilliant opportunity to reflect on what we've achieved and the impact we've had over the past year. And as all of you who've been on a learning programme with us will know, we believe reflection is an essential element of learning and continuously improving.
So we're thrilled to share our summary of what we achieved in 2018-19, as well as our financial accounts. Over the next few days, we'll also pull out some highlights and key reflections. (Because, much as we'd love to believe that you'd all read every last page of our beloved team effort, we know you're busy people!)
Read our annual report and accounts 2018-19
Throughout, you'll find some stories of people we've been proud to support over the past year, as well as data and insights into how we do what we do.
We've also mapped out our plans for the year ahead. This is to hold ourselves accountable to everyone in the SSE community for delivering on our mission:
To mobilise the experience of enterprising people from all backgrounds and support them to use entrepreneurial approaches to create lasting social and environmental change.
What you'll learn from our annual report
Who we are and what we do
How we create change
The impact of our work and what we achieved in 2018-19
How our programmes and courses work
Why we focus on reach, diversity and inclusion
How we catalyse action through financial support, as well as learning
How social entrepreneurs multiply the support we provide
About our government and management
How we support our network of schools in the UK, India and Canada
Our financial review and financial statements
Highlights from our year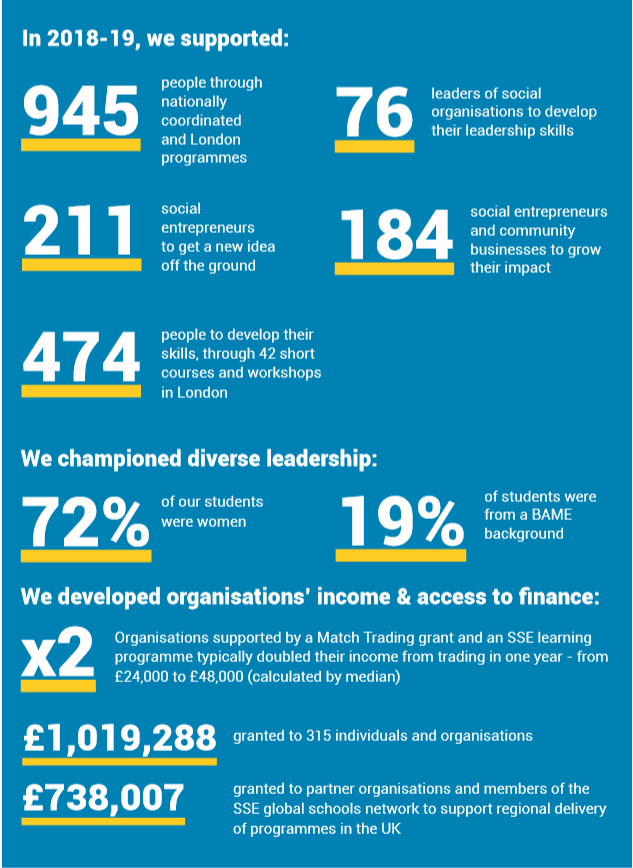 Of course, none of this would be possible without the SSE community of staff, students and SSE fellows, witnesses, expert speakers, mentors, facilitators and freelancers, partners, funders, and others in our sector and other sectors who make SSE what it is. On behalf of all the national team at SSE: thank you!
Download our annual report and accounts 2018-19