More learning for SSE fellows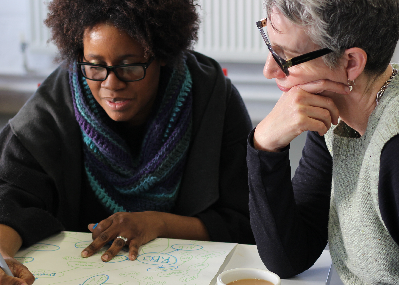 Virtual Action Learning Sets
Most SSE fellows would have experienced the power of Action Learning on their programme and how important the opportunity to sit and work through challenges with your peers can be. SSE fellows can continue with action learning without travel impacting on their heavy workload through our Virtual Action Learning support. We're pleased to be able to offer virtual action learning sets for all SSE fellows priced at £100 per year.
Limited discount available!
For the first 28 SSE fellows to express an interest this will be discounted to £50! Sets will meet virtually four times over the course of a year and be facilitated by an SSE facilitator.
If you'd like to join a set please contact kylie.dickenson@sse.org.uk
Mentoring by Social Partners
Social Partners have a wealth of experience in business and are offering themselves as mentors to SSE's fellows community. This is an invaluable opportunity for SSE fellows to draw insights from the Social Partners expansive careers.
To find out more about mentoring contact kylie.dickenson@sse.org.uk
Group coaching opportunities
Group coaching events will be offered up to 5 times a year, provided by Linklaters and PWC. Experienced personnel from our partner organisations will work together to help SSE fellows tackle their challenges at special coaching events.
To keep up to date with these opportunities, sign up to our newsletter and tick 'Yes' under 'Are You An SSE fellow?'.
One firm, one day
15th May
This is a great opportunity to diversify your thinking in facing topical challenges for yourself and your social enterprise. Working with a small group of PWC staff members with a range of skills. You will present your challenge and through the expert facilitation of the School for Social Entrepreneurs and the skills and strengths of a small group of PWC staff you will come up with multiple solutions and ways forward for you and your organisation.
If you have a challenge you would like to put forward for One Firm, One Day please contact Julie, julie.redding@sse.org.uk
SSE programmes and workshops
Other SSE programmes
You don't need convincing of the value of SSE's courses but have you explored all the 10+ other programmes available? SSE has learning available across many focuses, from local community business to global environmental issues.
Long programmes include:
Short courses and workshops
SE offers a wide range of specialist training that takes place over one or a few days. A few examples of which are:
SSE offers a discount to SSE fellows on the following short courses: