SSE London hosting SSE Fellow Louisa Weinstein's book launch with a difference…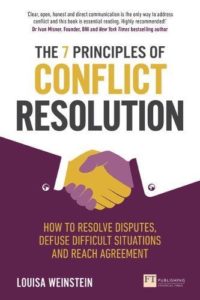 SSE is delighted to be hosting a launch event for SSE Fellow Lousia Weinstein's book 'The 7 Principles of Conflict Resolution' on Monday 23rd July at 5pm.
The 7 Principles of Conflict Resolution is a comprehensive and practical guide to effective conflict resolution from the early stages to escalation. It's packed full of practical tools and strategies drawing on real-life case studies to build communication, negotiation and resolution skills to create and maintain successful, workable relationships.
To celebrate the launch of the book Lousia will be hosting an interactive event at SSE London which will enable guests to experience and practice some of the tools and techniques of The 7 Principles of Conflict Resolution for themselves and their businesses.
Louisa will provide an overview of the tools available to resolve disputes, diffuse difficult situations and reach agreement and highlight some of the quick wins and principles to handle difficult conversations and implement organisational change.
There would also be an opportunity to buy signed copies of the book.
The event will run from 5pm – 7pm and it's free to come along!
Email david.mcglashan@sse.org.uk if you'd like to book a place.