Devon and Somerset Social Entrepreneurs Development Programme
A course for established enterprises to delve deeper and spend time exploring their revenue generation options and strategy. The programme will run in Exeter from September 2018 to February 2019.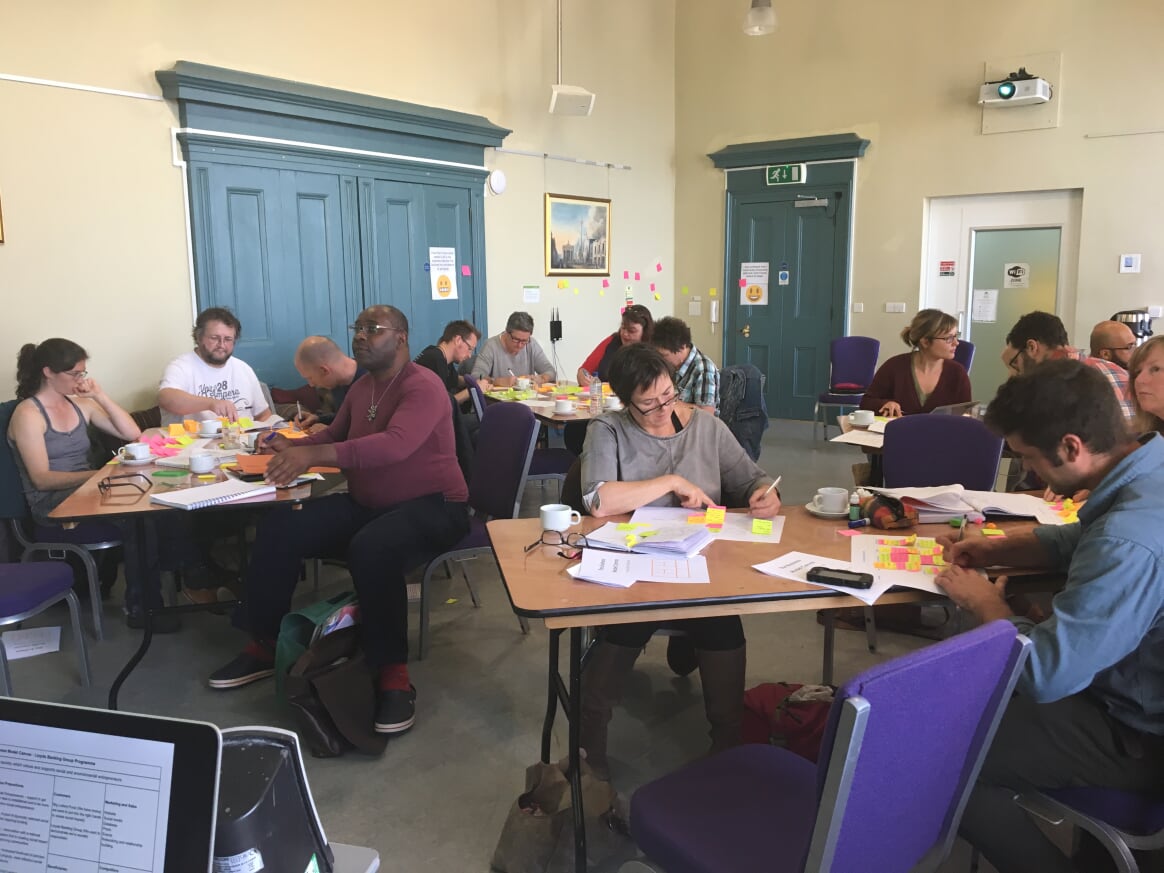 Social ventures and ethical businesses often rely on subsidy grants and a lot of good will. Competition for grants, donations and resources is steadily increasing. Against this background, and building on the success of our 2014-2017 programmes, the Devon and Somerset Social Entrepreneurs Development Programme 2018/19 will provide a tailor-made programme for social venture leaders to help them develop the skills, personal effectiveness and knowledge to help their social venture grow and become sustainable. The course provides access to over £2500 worth of development support and is aimed at leaders and key-change makers of third-sector organisations and social enterprises that have completed their start up phase and who are now looking to develop and find new business opportunities.
"The networking has been fantastic, worth its weight in gold… The action learning sets are fantastic, and we're continuing with ours in Somerset now that the
course is over."

Kris Scotting – Founder, Seed of Hope
SSE Fellow – Somerset
Details 
The Devon and Somerset Social Entrepreneurs Development Programme 2018/19  is an 8-day learn 'by doing' programme over six months including action learning sets plus a business review panel. The programme allows and encourages participants to implement changes between sessions and provides time and space to reflect on their learning. The programme will consist of a blend of modes of delivery and learning methods for personal and organisational development. These will include:
Day-long intensive study sessions: with social enterprise witnesses sharing their journey and expert sessions providing specialist tools and techniques in workshops
Action learning sets: three half-day facilitated sessions a practical, small group-coaching method that can resolve business issues and difficult problems.
Business review panels: one-hour sessions where you will be looking at your organisations specific challenges and opportunities with the advice and support of experts from the local social enterprise network.
We complete the course with a final progression and celebration event.
What you'll learn from this course
Each study session and online webinar will be themed around specific aspects of social entrepreneurship and will be tailored and weighted to the needs of the cohort. It will include topics such as:
Business Planning – reviewing and assessing your current business model
Leadership – understanding and optimising your role in the development process.
Developing your market position – understanding your customers and develop a market strategy
Impact Measurement – assess your position and impact.
Opportunities for Growth – Maintaining existing and sourcing new business partners
Sales- how to sell your products, your organisation and yourself
Financial sustainability – looking at your  income streams
Pitching and Presenting – how to get your message across with confidence and impact
Programme Dates
 Study Days
 Study Days
 Business Review Panel-one hour session on one of the following dates:
 Tues 25th September 2018
 Tues 27th November 2018
 a) Fri 9th November 2018
 Tues 9th October 2018
Tues 11th December 2018
 b) Fri 30th November 2018
 Tues 30th October 2018
Tues 15th January 2019
c) Fri 11th January 2019
 Tues 13th November 2018
 

Tues 5th February 2019-

Graduation day!
d) Fri 18th January 2019
Who will you hear from?
We will invite practitioners and other social entrepreneurs to share their expertise and provide interactive workshops. Previous programme contributors have included:
COSMIC ethical IT
The Entrepreneurs Godmother
Oratemate
The Onion Collective
Somerset Community Foundation
Somerset County Council
Devon County Council
Vinesworks
Iridescent Ideas
Emergent
Trevor Lee Media
Who should apply?
This is a great opportunity for Devon and Somerset-based leaders and key-change makers of third-sector organisations and social enterprises that have completed their start-up phase and who are now looking to develop and find new business opportunities. Those operating or living in the Heart of the South West region are also eligible to apply across Devon and Somerset. See the map
Previous participants have included:
BtheChange
Totnes Cinema
South Hams Citizen's Advice Bureau
Exeter Drugs Project
Seeds of Hope
Plotgate CSA
EAT Festivals
Girl Friday Ltd
ACE Arts
PromiseWorks
The Diversity Trust
Location
The programme will be delivered in Exeter, Devon and we will endeavour to ensure all venues are accessible by public transport.
Price
This course is fully-funded and free for participants to attend. You will be expected to attend all 8 study days and your Business Review Panel.
Your place on the course is part-funded by the Enhance Social Enterprise Programme. The Heart of the South West Enhance Social Enterprise Programme is receiving funding from the England European Regional Development Fund (ERDF) as part of the European Structural and Investment Funds growth Programme 2014-2020. 
How to apply
Apply for the programme by downloading the application form below. You can save the form to your desktop, fill it in offline and then submit it via e-mail. Please note that the application form is a word document, so may not be downloadable on some mobile devices – we recommend completing on a desktop.
Download the application form here
If there is something you are not sure about, please first take a look at the Frequently Asked Questions and if you need more information feel free to get in touch.
Deadline for applications: 20th September 2018 – 12.00pm
For more information or to apply email applications.sse@dartington.org or for an informal chat call 01803847060.