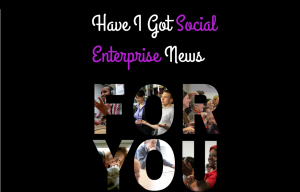 Welcome to 2017. It's customary at this juncture to offer a series of predictions for the year ahead, but if 2016 taught us anything it's that predictions are worthless and that the world is just a collection of random and bizarre events over which we seemingly have very little control. It's a bit like living in Grand Theft Auto. So I will be offering no predictions, instead wishing you a prosperous year ahead.
Enjoy this week's news, and have a good weekend.
---
One man braver than I is SEUK's head soothsayer Nick 'Mystic Meg' Temple, who has thrown caution to the wind and cast in virtual stone his six things to look out for in 2017. Let's hope he's right.
---
At the end of last year I asked you to take part in our annual training survey and a record 440 of you did -thank you all. Determined using this highly sophisticated random number generator the three winners of a £50 John Lewis voucher are Ged Quayle of Shipley Little Theatre, Angela Davies of Nova and Tenfold and Asha Patel of Innovating Minds CIC.
I'll share some of the headline results of the survey in a few weeks' time once I've got my arse in gear after the Christmas break crunched the numbers.
---
For 18 months our Communications Assistant position has been filled by a Manchester United fan. As any sensible person knows, this is not a sustainable position for an organisation to be in. Current comms bod Kudzai is however heading off to New Zealand (which at 11,550 miles away makes him one of the closer Man U fans to Old Trafford) and so we need to replace him.
If you are interested in the role (£20,503-£24,627 depending on experience, based in London) you can find out more here. Deadline to apply is 15th January.
---
Also recruiting are Teach First, who have an interesting Senior Officer – Incubating Innovation vacancy (link downloads a pdf). They are looking for a dynamic, entrepreneurial individual with a passion for the role of social enterprise in addressing educational inequality. If that sounds like you, you need to be quick – the deadline is Sunday 8th January.
---
You need to get your skates on if you want to apply to SSE Dartington's Devon Social Entrepreneurs Programme 2017 which also closes to applications on Sunday. It's a free programme of support suitable for leaders and key-change makers of third-sector organisations and social enterprises that have completed their start up phase and who are now looking to develop and find new business opportunities.
---
The ever readable David Floyd is on rousing form as he takes on 'swashbuckling business leaders explaining that current approaches to doing good were rubbish and that charity, government or both should be replaced by people more like them' in his blog post 'Rip it up and start again'.
---
Speak Nest are offering affordable work space for small social cause start ups and free range freelancers in Bethnal Green. Rates are £8 per day or £140 per month. Beyond offering the desk space they aim to create a community which collaborates with one another.
---
In a week in which French workers won the right to avoid checking work email out-of-hours, SSE Fellow Sinead MacManus is running a well-timed event asking work, life, life, social enterprise: where's the boundary? It takes place between 1pm and 4pm on January 25th in London.
---
Communications consultancy Flagship have produced 'Twelve Steps Towards Embracing Digital For Charities', a guide to help charities start using digital more effectively.  There's nothing revolutionary in it but it's a useful starting point. (If you want something more extensive, check out our four day Third Sector Digital Leaders course which starts in May).
---
Finally, a quick reminder that early-bird booking is currently on SSE London's first 'big' course this year, Replication and Social Franchising. You can find out more about the course here.
Want to receive this in your inbox every Friday morning? It looks much prettier. Sign up here
What's on at SSE: