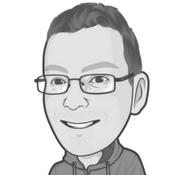 Occasionally I'm asked to speak on one of the courses that we run at SSE. It's quite an honour, when you think of the people who have previously spoken: Michael Young, Jon Snow, Alastair Wilson – all the greats. Anyway, what's the main piece of advice I give people? Do your research and ask for customer feedback.
This changes now. It's nonsense. Apologies if you've listened to me pronounce this 'advice' – you should get a refund. Why? In last week's newsletter I asked for feedback on the new design, and now I'm a confused mess. "It looks much better without the numbers", "I miss the numbers", "Love the cartoon you", "The cartoon makes me want to punch you in the face". So my new advice: don't do feedback, don't listen to anyone, and most importantly of all, don't have a punchable face.
Enjoy this week's news…
---
Trade up up and away
Our Community Business Trade Up Programme in partnership with Power to Change is still open to applications. On offer is a six-month learning programme & up to £10,000 for community businesses in England. Don't worry, you won't have to listen to me speak.
---
Mythbusters
"Wholly sustainable social enterprises are a myth." SSE's very own Alastair Wilson drops some truth bombs in this article for the Pioneers Post. Agree? Disagree? Tweet us @schscocent and let's have a Friday afternoon debate. We've got to do something to fill the time until we can go to the pub.
---
Working breakfast
Social enterprise Ms Independent are hosting Female and Finance, a breakfast networking event at Bella Italia Baker Street in London between 10am – 12pm on 23rd September. The event will cover investing money, saving money and making money. It's £12 to go along and you even get a goodie bag. What more do you want?
---
Ch-ch-ch-changes
Our friends at Sheila McKechnie have opened up applications to their Influencing Change London programme for London based campaigners and change-makers looking to take their skills to the next level. It runs for five days over October, November and December. It looks really interesting and places are subsidised.
---
Rise to the top
An article on the Guardian's website this week, 'How to get your charity's funding application to the top of the pile' provides some tips for how you can make your grant application stand out from the crowd. It's all far more sensible than my suggestion of sending it in on pink paper.
---
Not to be confused with the Stone Roses song
HIGSENFY reader Abi Perriman is hosting 'Fools Gold', a quality clothing swap and sale event to reduce waste and raise money for WasteAid. It takes place at Juju's Bar in hipster hotspot Shoreditch at 6pm on Tuesday 3rd October. Abi is also keen to hear from social enterprises operating in the sustainable fashion sector in the London area – email foolsgoldevents@gmail.com.
---
Sell Sell Sell 
We've still got some places available on our Finding New Customers And Making More Sales workshop on September 25th, which got amazing feedback when we ran it earlier this year. You don't need any previous sales experience to come along and the course is open to all.
---
Get a new job, part one
A very interesting opportunity with SSE Fellow Alexandra Fitzsimmons and her organisation Maths on Toast; she's looking for an Operations and Marketing Manager to help grow the organisation. It's a brilliant time to join Maths on Toast, and in essence become the social enterprise manager. Alongside this role, they are also recruiting two trustee positions.
---
Get a new job, part two
Brunswick Organic Nursery and Craft Nursery in York are recruiting a Director for Commercial Development and Finance to increase income from their social enterprise. (Details for the job are on the left hand side of their website under latest news.)
---
Get a new job, part three
You'll need to get a wriggle on with these (the deadline is Monday at 5pm) but London Football Journeys are looking for two people – a Lead Facilitator to plan and deliver workshop and schools and a Programme Manager to lead on and coordinate activities for an new 2-year partnership project. London Football Journeys uses football to support people to become positive leaders and role models.
---
Make an example of yourself
If you've had any experience of social investment, good or bad, the folk at Good Finance are building a directory of case studies and would like to hear from you. Contact kwhiteside@goodfinance.org.uk if you'd like to be featured or click the link below if you'd simply like to see the case studies so far.
---
Speculate to accumulate
Some good news from our Dartington school where Fellow Antony Jinman has smashed through his £150,000 crowdfunding target and looks on course to hit £200k. His organisation LiketoBe is a digital platform that connects teachers and students with professionals to provide impartial, real world careers advice. There's still time to invest in the organisation.
---
Why didn't I think of that? 
Last but not least a shout out to SSE student Christian Purcell and his start up DropPoint, one of those neat ideas that makes you wonder why no-one has thought of it before. The organisation matches charities looking for specific donations with people who can donate them. They've also partnered with CollectPlus to provide discounted postage to people sending things into the charities. Told you it was a good idea.
---
Want to receive this in your inbox every Friday morning? It looks much prettier. Sign up here
What's on at SSE: