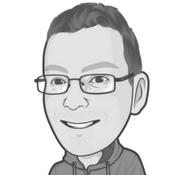 It's that weird time of year where it feels like you should be winding down for Christmas but work carries on regardless. So inconsiderate. Probably a good thing for me though, otherwise this would be a fairly blank newsletter…
If you haven't, please don't forget to complete our training survey – today is the last day to fill it in.
Enjoy this week's news, and have a great weekend.
---
Parental advisory: explicit content
Joe Saxton at nfpSynergy has a potty mouth. I've never met him, but evidence suggests that the air around him is blue. He wanders around, effing and jeffing and asking questions like "is fundraising f***ked?". Bu**ered if I know, so you'd better read the article.
---
Pass the parcel 
I've written before about SSE student Christian Purcell and his organisation DropPoint which uses postal returns label to donate unwanted clutter to local and national causes. It's a really neat concept, and has been extended to include 'Pass the Parcel', an 'off the shelf' corporate social responsibility platform.
You can read more about it here  
---
Cancel your weekend
I don't care what exciting plans you have, the deadline to apply to become our new Development Manager or our new Strategic Project Manager is midday on Monday. No phoning up the office on Monday telling us that you missed the deadline because you were at a party / had to go shopping / had a Christmas tree related 'incident'. 
---
From small acorns…
I enjoyed 'How to grow good ideas in the charity sector' by Genevieve Maitland Hudson (@My_impact_is on twitter, well worth a follow) which addresses some of the external pressures that charities and social enterprises face to scale. 'If we want to see the social economy develop, and the wider distribution of good practice and good ideas, we need to understand our own logic of growth. That should not mean small charities growing fast, backed by expensive debt to deliver increasingly algorithmic interventions (however well-evidenced), but networks of affiliated agencies with shared aims working in partnership with their communities for long-term change.'
---
Ho Ho Ho
Right then, I've decided that next week will be the Christmas present gift bonanza special edition. If you've got a social enterprise product that you think will make a perfect Christmas gift send it to me and I'll include – david.mcglashan@sse.org.uk. Thanks to everyone who has sent something over already.
---
Ha Ha Ha
I have to confess, I've never watched The Russell Howard Hour. I am aware of Russell Howard as a comedian (he looks exactly like my friend Leo) but I am not familiar with his oeuvre. I may need to watch it now though, considering they recently featured SSE Fellow Jem Stein and his organisation The Bike Project.
---
Free food for organisations – closes today.
A nice gesture from supermarket chain Aldi, who are offering local organisations the opportunity to receive surplus food from their stores on the afternoon of Christmas Eve. If you run (or know) an organisation that could redistribute the food you need to contact Aldi by the end of today – contact details in the link below.
---
Power Up
SSE Fellow Andy Heald of Energise Barnsley, and fellow board member Faye Tomson, who recently completed the Power to Change Community Scale Up Programme for Energise Barnsley, recently released their Social Impact Report for 2016/17. Energise Barnsley is the largest local authority and community energy rooftop solar PV and battery storage project in the UK. Highlights from the report include electricity savings of over £75,000 to tenants, helping alleviate fuel poverty. Some tenants, who have also received a battery in addition to the solar, are self generating their own electricity for 60% of their home electricity consumption needs. Great stuff all round.
---
Brexit means…?
SSE Fellow Greg Sanderson is looking for a freelance trainer for his organisation Involver. The job itself will be to deliver informal, politically neutral educational sessions on the European Union to secondary-age young people in the UK. It looks like a really interesting position, but good luck staying politically neutral…
---
Hot chocolate
Congratulations to SSE Fellow Mona Shah and her organisation Harry Specters, which has been shortlisted for the social enterprise category of the Citi Microentrepreneurship Awards. Harry Specters makes and sells award winning chocolates and provides free training, work experience and employment opportunities for people on the Autistic Spectrum.
---
I'll drink to that
Finally, a nice story from the Guardian about The Bevy, the UK's first co-operative pub on a housing estate. Sounds like a great venue for an SSE project visit…
---
Want to receive this in your inbox every Friday morning? It looks much prettier. Sign up here
What's on at SSE: