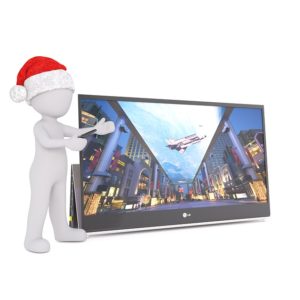 It can be tricky to navigate the Christmas TV schedules. There's just so much on. So this week I thought I'd pick out some of the highlights of the festive season, leaving you to relax with a glass of mulled wine and a mince pie. Call it a gift from me to you…
This is the last Have I Got Social Enterprise News For You of 2016, so make sure you have a fantastic Christmas, and I'll 'see' you in the New Year!
---
University Challenge
A special edition as we see Oxford University take on The School for Social Entrepreneurs. Founded in 1096, Oxford University has produced 65 Nobel Prize winners and 27 British Prime Ministers. They are captained by theoretical physicist, cosmologist and author Stephen Hawking.
Founded in 1997, the School for Social Entrepreneurs are captained by their head honcho Alistair Wilson, who doesn't have as much knowledge of particle physics but who did spend last Christmas Day in A+E after opening a bottle of prosecco into his face. He's come out fighting though, and has laid down some pre-quiz trash talk with his article Why Universities Shouldn't Teach Social Entrepreneurship. This should be lively.
---
Supermarket Sweep
The next time you're at the checkout and you hear the beep… think of the fun you could be having on Supermarket Sweeeeep! Yep, Dale Winton's back for a Christmas special and we're off to Morrisons, who currently are offering grants to registered charities in the UK. Go wild in the aisles!
---
Press Gang
We were always a CBBC house in my house (Ed the Duck swung it) but I made an exception for Press Gang. And now the team from the Junior Gazette are back, and in true millennial style they've started Tilt, a free online magazine about social enterprise and social entrepreneurship. It's a decent read.
---
Have I Got News For You 
Based on popular weekly email newsletter 'Have I Got Social Enterprise News For You' this amusing panel show takes a sideways glance at the week's affairs. Who knows what they'll cover this week? Perhaps the news that the government have pledged £2.5 million to support small grassroots community groups with grants of £70,000+ available. Not the most fertile ground for wit, but let's wait and see.
---
Mastermind
Your specialist subject is social impact bonds. Posing the questions is David Floyd.
---
Noel's Christmas Presents
Noel Edmunds' career has taken a bit of an about turn this year- he's most recently launched a counselling service for dejected hamsters, stressed goldfish and neurotic cats – but he's back for this one off show and he's got some very special gifts for you, including this link to 12 reports by nfp synergy covering topics such as volunteering, mission statements and charity finance. Ho ho ho!
---
Dragons' Den
I have no idea if the Big Energy Idea 2017 will utilise a 'Dragons' Den style recruitment panel' but we're big fans of them in the social enterprise sector so I'm going to assume that it will. The programme is open to organisations either in or related to the energy sector with the potential to become financially sustainable without grant income.
---
Points of View
Join host Jeremy Vine for a very special edition of the show. This week, he's asking for your opinion on the training needs for the charity, social enterprise and public sectors. He's offering a prize to three of the people who get in touch too! It really is the most wonderful time of the year.
---
First Dates
Want to meet likeminded people working in the third sector? Fancy a bit of cheeky collaboration and flirty knowledge sharing? Then head over to the new Charity Connect website for some festive fun! (N.B – it's not a dating site, it's actually a very useful site for networking amongst the third sector but I couldn't think of a TV show that would encapsulate that.)
Want to receive this in your inbox every Friday morning? It looks much prettier. Sign up here
What's on at SSE: