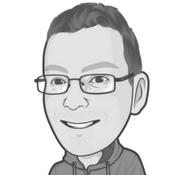 When I was younger I used to get endlessly frustrated that my parents couldn't work out how to set the video recorder. No matter how many times I showed them, there was only about a 5% chance that they would manage to actually record the programme that they wanted to watch. "I'll never be like that", I'd think to myself, before heading back to my bedroom to apply some Lynx and listen to Green Day or Offspring.
Now in my mid 30s, I am becoming just like that. I think the warning signs started a few years ago, around the time that 'Big Data' started to be a thing. "Big data will change everything" people would say to me. "Agreed", I'd say confidently. "Could be huge". But in my head I'd be thinking "I have no idea what you are talking about".
Next came Bitcoin. About five years ago a friend who worked in San Francisco told me to buy some. So I did, and it turned out to be a prudent tip – I think I spent about £100 and the value of my investment has soared, to somewhere in the region of £12,000 – £15,000. The problem I have is that I a) have no idea where I bought the Bitcoin from b) have no idea where my Bitcoin is stored and how to access it c) have no record of how to overcome these problems and d) still don't really understand what Bitcoin is. So I have in fact managed to lose £100.
Now, people keep banging on about blockchain. I'm not even going to pretend to know about this, it's baffling. Read the Wikipedia page and see if you can get passed the first paragraph. I've decided that life is too short, and I have to say that it is quite liberating. Maybe my parents were right all along.
Enjoy the news…
---
A step in the right direction
This week the CEO of investment firm BlackRock wrote a letter to the CEOs of the world's largest companies encouraging them to think beyond making a profit."Society is demanding that companies, both public and private, serve a social purpose. To prosper over time, every company must not only deliver financial performance, but also show how it makes a positive contribution to society." You can read the letter here or click the link below to read some analysis from the New York Times. How big a deal is this? BlackRock is the largest investment firm in the world, so you'd like to think that his words hold some power…
---
Everybody needs good neighbours
Nice coverage in the Evening Standard for Neighbourhood Midwives, a social enterprise founded by SSE Fellow Annie Francis.
---
You had one job
The first of three job opportunities: Think for the Future, an educational social enterprise delivering educational programmes within deprived schools and areas across the East Midlands, are recruiting a Programme Quality Assurance Lead. The role focuses on the quality of programme delivery across the organisation, including managing all delivery staff and their personal development. The role is based in Nottingham and pays £21,500 – £25,000. Think for the Future was co-founded by SSE Fellow Cherie White.
---
No, you had two jobs
I've got a mate who quit her job working in an office to become a gardener and she reckons it's the best thing she ever did*. If you fancy making a similar change SSE Fellow is looking for a Lead Gardener for her horticultural social enterprise Team Springboard CIC, based in Coventry. The closing date is Feb 3rd.
*she also once spent about fifteen minutes on a night out in a newsagent trying to buy a packet of cigarettes with some blackboard chalk that she found outside the shop so her comments may need to be taken with a pinch of salt.
---
Actually, it was three jobs
The final job is with Tracy Ahern and her organisation Community Catalysts in Bedfordshire, 'a busy, buzzy social enterprise that tries hard to live up to its name'. They are starting a new piece of work in partnership with Central Bedfordshire Council and need an energetic, and imaginative person to coordinate things. The role pays £32k.
---
H2 Whoa
Chemical company Scott Bader are offering grants of up to £25,000 to 'community based environmental or educational projects that benefit young or disadvantaged people', along with 'small grants of £500-£2,000 to support international projects located anywhere in the world' (although the organisation has to be based in the UK). It looks like you have to have a charity registration number to apply.
---
Food, food, glorious food
Impact Hub are running 'Feeding the City', a free 12 month incubation programme 'open to groups passionate about creating sustainable food-related businesses that benefit communities.' It's taking place across 10 UK cities. I particularly like the food related names that they've given each programme block: seeding, sprouting, growth and harvest. Nicely done.
---
Test stress
A good article in the Guardian about MeeTwo, a social media app designed to help teenagers with mild to moderate anxiety co-founded by SSE Fellow Suzi Godson. The app 'lets users post anonymously and receive support and advice about their worries from other teens'. Perfect if you've got children worried about exams.
---
Out of the ashes…
Sticking with the Guardian, Asheem Singh has penned an interesting piece following the Carillion shambles: 'After Carillion, social enterprises must take charge of public services'. A great comment on the piece too: "Alarm bells should have rung when what is essentially Tarmac put in a bid to supply school dinners". Quite.
---
Eggscellent
Finally, if you're in Sarf London and you've got an entrepreneurial idea that you'd like to hatch, the check out the Social Enterprise Incubator Programme from Hatch. It's 'the ideal growth engine for an early stage social enterprise or charity' – places start from £150 for a four month programme.
---
Want to receive this in your inbox every Friday morning? It looks much prettier. Sign up here
What's on at SSE: